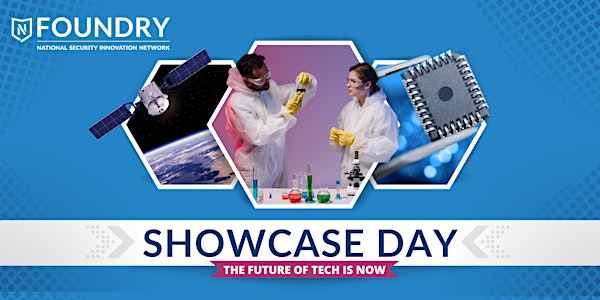 NSIN Foundry 2022: Showcase Day
Network with founders, inventors, federal labs, and more as the best teams from the NSIN Foundry 2022 program compete for $50,000!
About this event
Wednesday, September 14, 2022
Showcase Day is the culmination of the NSIN Foundry program, powered by FedTech. Foundry matches teams of entrepreneurs with cutting-edge federal inventions to assess their commercialization potential and generate solutions to real-world problems for the Department of Defense and the private sector. Teams work closely with inventors, mentors, and advisors throughout the intensive five-month cohort. Showcase Day is a fully virtual event.
Pitch Presentations
The top six teams from the Foundry 2022 cohort will pitch their projects to an audience of investors, government partners, industry experts, and fellow entrepreneurs. Each pitch will be followed by a question and answer session by our esteemed Expert Panel. $50,000 in cash prizes will be split between the top performing teams.
Networking
Following the pitches, there will be interactive, live networking sessions where all participants will have an opportunity to meet with founders from all the teams in the 2022 cohort. You won't want to miss the opportunity to connect with highly motivated entrepreneurs driving the future of technology!
Special Guests
Opening Remarks by Justin Dunnicliff, NSIN Acting Director and Chief of Staff
Keynote Address by Congressman Jim Langevin (D-RI), Chair of the Cyber, Innovative Technologies, and Information Systems Subcommittee
Fireside Chat with Paul Madera, Air Force Veteran and Co-Founder and General Partner and Meritech Capital
Expert Panel
Lauren Dailey (Defense Innovation and Acquisition, Deloitte)
Caitlin Dohrman (President & GM, Improbable)
Angelo Kafantaris (CEO, Hyperion Motors)
Emily McMahan (Co-Founder & General Partner, Academy Investor Network)
Sarah Pearson (AI/ML, DIU)
Dr. Ravi Penmetsa (AFRL RS)
Tex Schenkkan (Director, NSIC)
Kate van Dam (Senior Director, In-Q-Tel)
Program Details (in ET)
2:00pm Pitches and Programming (Opening Remarks - Pitches 1, 2, 3 - Keynote - Pitches 4,5,6 - Fireside Chat)
4:15pm Expo Opens for Audience Choice Evaluation
4:45pm Winners Announcement + Closing
4:50pm Live Expo with Networking Continues
5:30pm Event Ends
Register for Showcase Day by clicking the "Register" button on the top right.
About Foundry
Foundry is a program of the National Security Innovation Network (NSIN), powered by FedTech. The program leverages breakthrough technology from top federal research and development labs to solve real-world problems for defense and commercial customers. Entrepreneurs and mentors are sourced from across the U.S., formed into teams, and matched with inventors of innovative technologies from federal labs. Over the intensive five-month program teams go through two phases: customer discovery and early company formation. Successful teams form companies, license technologies from the labs, pursue funding opportunities, and develop new, impactful solutions to federal and private sector problems.
National Security Innovation Network (NSIN)