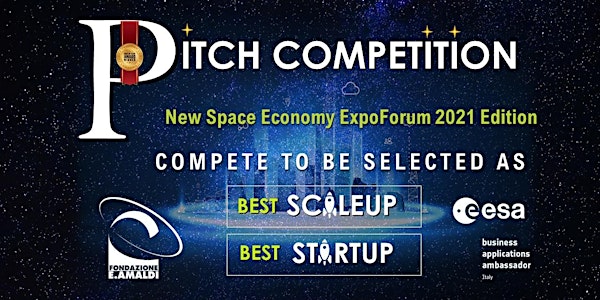 NSE Pitch Competition 2021
Fondazione E. Amaldi invites all start ups operating in the field of Space Technologies to apply to NSE Pitch Competition 2021!
About this event
REGULATION FOR THE ENROLLMENT TO: "NSE PITCH COMPETITION 2021"
THE OPPORTUNITY
The event has been ideated by Fondazione E. Amaldi, organizer of NSE ExpoForum 2021.
The call is dedicated to individuals or teams of startups and researchers with projects or innovative ideas in the Space technology sector. Participants will have the opportunity to give visibility and make their project known within the context of the New Space Economy Expo Forum 2021, with all major players in the Space sector, investors and experts in the field of entrepreneurship, technology and innovation.
THE PRIZE
The prize up for grabs consists of:
- Pitching opportunity for the best selected scaleup and startup during the NSE ExpoForum 2021;
- 1 full sponsorship package for the best scaleup to attend NSE ExpoForum 2022;
- 1 entry sponsorship package for the best startup to attend NSE ExpoForum 2022.
CANDIDACY
The candidacy application will be open on the 26th of November 2021 at 6 pm, and will remain available until the 9th of December 2021 at 11:30pm.
In order to participate, you will have to register to eventbrite, by using the green button on the right hand side on this page, submitting the requested information to proceed with the evaluation.
The winners will be revealed on 11th December 2021 during the closing ceremony.
THE PITCH - preview information only for the winners
The winners will have the chance to pitch during the closing ceremony by presenting the key elements of an entrepreneurial idea, designed to attract potential investors or promote a business idea. The pitch is the vehicle for the promotion of the project which must contain the information necessary to disseminate and make your business idea attractive. Your pitch will have to include the following points: the value proposition, the market, the competitors, the funding you are looking for and the team.
TIMELINE
• 26/11: Call Opening
• 09/12: Call Closing
• 11/12: Reveal of the winning Startups competing
REGISTRATION
In order to have access to the NSE Expoforum 2021 and to the pitch competition you need to regularly register to the event.
You can do it through the official website here: nseexpoforum.com
Do you need more information? Get in contact with us: eventi@fondazioneamaldi.it