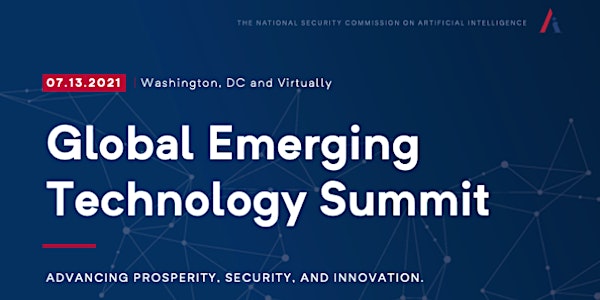 NSCAI's 2021 Global Emerging Technology Summit
National Security Commission on Artificial Intelligence (NSCAI) 2021 Global Emerging Technology Virtual Summit
About this event
Dr. Eric Schmidt, Chairman of the NSCAI, and Honorable Robert O. Work, Vice Chair of the NSCAI, cordially invite you to the 2021 Global Emerging Technology Summit.
The purpose of this Summit is to convene key democratic nations, international organization leaders, and private sector entities to define parameters for collaboration on global emerging technology issues. A range of senior U.S. and foreign government officials, members of Congress, private sector leaders, and other thought leaders are expected to speak throughout the day.
We look forward to your attendance (virtually or in-person).
NOTE: There are a limited number of in-person seats available at the Mayflower Hotel, Washington, DC. If you wish to attend the summit in-person select the in-person option to be added to the waitlist. We will release seats as we finalize the appropriate seating configuration. If NSCAI is unable to provide an in-person ticket, all remaining registrants will receive the live stream link.