Description
NSA Ohio brings you the top
professional speakers in the country
at EIGHT action-packed meetings.
Where the best of the best share
their secrets on how to improve
your business and speaking.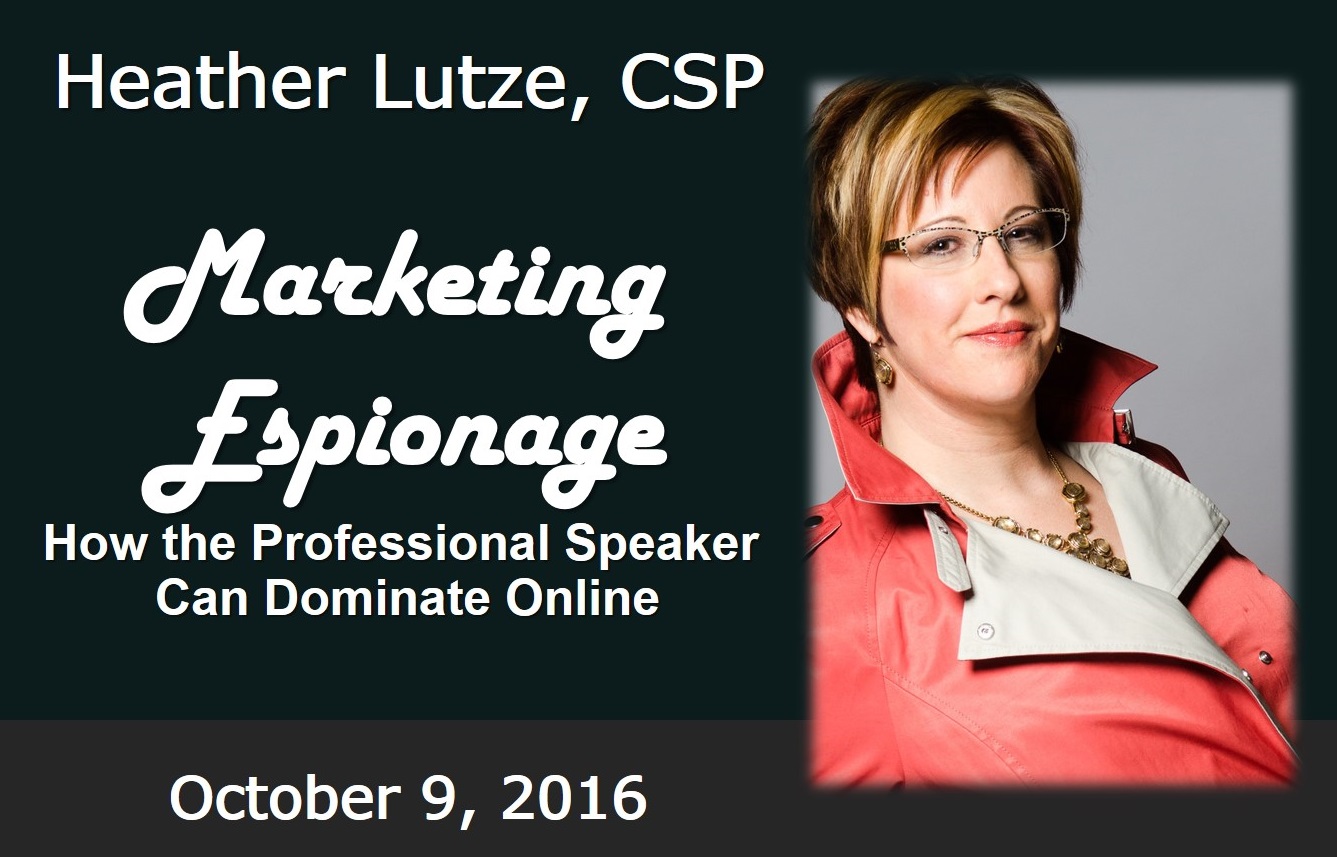 There's a razor-thin line between making and losing millions and your business success doesn't guarantee your online success. After working with hundreds of prestigious clients and presenting to 90+ Vistage groups, Heather has distilled 14 years of Internet and search marketing know-how to rapidly identify common mistakes and provide essential tools and solutions needed to fix websites fast.
EVERYONE MUST>>Bring your fully-charged LAPTOP
(iPads not recommended)...this is a working meeting, folks!!!
Roll up your sleeves and use real life tools of the trade to understand and set strategy for their own businesses. Her easy, non-technical style has wide appeal to audiences interested in growing their business and improving marketing results quickly.
Heather will reveal how to:
Understand why "Intel Strategies" are not covert, but industry best practices for a winning online marketing plan.

Spy on yourself and discover where you stand with Google.

Tap the psyche of the searcher to stop guessing and start connecting.

Gain a significant edge by discovering your competitor's online strategy.

Conduct advanced keyword research to get found fast.

Create content strategy that connects with customers.

Learn top strategies to improve Findability.

Attendees are also encouraged to take the 13-Day Marketing Espionage challenge for professional speakers for FREE!  13 days of easy, non-techie tips to make your site more findable. (To Join this Challenge, simply Click on the logo above)
Meeting Schedule
8:30  
Registration Begins 
*Joining us for the First time?...Register as a "First-time attendee" at our VIP Guest rate, and please arrive by 8:45 to complete registration. 
9:00 - 12:00 
NSA Ohio Introductions, Speaker Program
12:00 - 1:00 
On-site Structured Networking Lunch & Dessert*
Pulled Pork Hot Buffet w/ Cole Slaw and Redskin Potato Salad
(included in registration cost)
*Dietary Restrictions??? Please email chapteradmin@nsaohio.com at least 3 days prior to the meeting.
1:00 - 2:00 
Breakout Session (NSA Ohio Professional Members only)
To Learn More, Visit: www.nsaohio.com
Please note:  All ticket sales are non-refundable and valid for this meeting only.