NRP for Healthcare Providers

Sunday, January 1, 2017 from 9:00 AM to 4:00 PM (PST)
Event Details
NRP is an educational program that introduces the concepts and basic skills of neonatal resuscitation. Completion of the program does not imply that an individual has the competence to perform neonatal resuscitation. Each hospital is responsible for determining the level of competence and qualifications required for someone to assume clinical responsibility for neonatal resuscitation.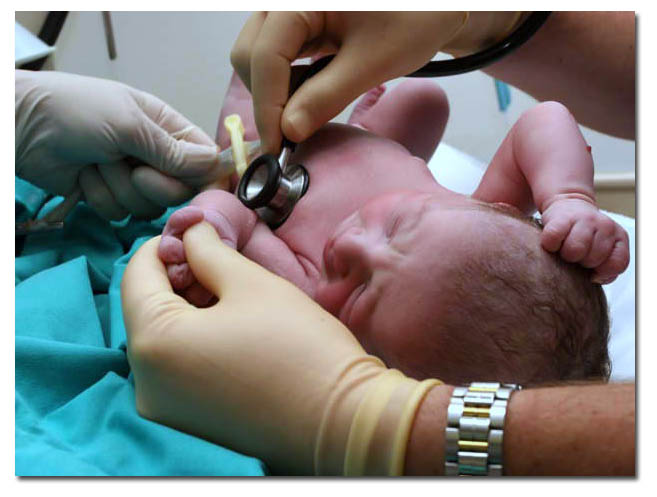 AAP HAS RESTRUCTURED NRP TO NOW REQUIRE COMPLETION OF AN ONLINE EXAMINATION PRIOR TO ATTENDING THE NRP COURSE.
NRP has been reformatted to require students to take an active role in their learning. 
The new 6th Edition format requires that 
ALL STUDENTS MUST COMPLETE THE ONLINE 6TH EDITION NRP EXAMINATION PRIOR TO THEIR SCHEDULED CLASS. 
YOU MUST BRING YOUR COMPLETED EXAMINATION CERTIFICATE TO CLASS IN ORDER TO PARTICIPATE IN THE NRP COURSE. THE NRP COURSE MUST BE TAKEN WITHIN 30 DAYS OF COMPLETING THE ONLINE EXAMINATION. 
Additionally, there is no longer a distinction between certification and renewal.
 All students will take the online examination and then participate in the same activities at the NRP Course. However, participation will be tailored to the experience of the student.
In order to complete the online examination, you will need to purchase or have access to the new textbook. It is available through our website at registration. A Study Guide with key points will be sent to you when you register for the course. However, it only covers the key points and will not provide sufficient information to pass the online examination. The textbook is 329 pages and includes a DVD to watch. Please allow enough study time prior to taking the examination and registering for your NRP Course.  Necessary study time varies by individual and experience.
NRP Course Components now include:
1.

       
Take the written examination online (required).
 When you sign up through Lifesaver Education, you will automatically receive one license for the examination that is included in the price of the course. 
You have two chances to pass each lesson.
 If you do not pass even one lesson after the second try, you will be required to purchase another license through
www.aap.org/nrp
. The cost for an additional license is $20.
2.

       

NRP Course (required).
 You have 30 days from the 
completion date 
of your written examination to complete the NRP Course. Components of the NRP Course are:
·

         
Performance Skills Stations (optional)
·

         
Integrated Skills Station (required)
·

         
Simulation and Debriefing (required)
This is a NO STRESS learning time designed to learn/refresh skills of neonatal resuscitation, not a pass/fail testing session.
3.

       
NRP Preparation Lab (optional). 
At Lifesaver Education, we understand that it may be difficult for a new student to learn NRP only from reading a book. We are offering an optional opportunity to come and audit an NPR Course. You may participate in the performance skills stations, ask questions, and observe. This will not substitute for the NRP Course required following examination completion, but it may be very useful for new students to familiarize themselves with the material prior to taking the examination. 
There is an additional charge of $45 for this option.  You will receive a $10 promo code to use when you sign up for the NRP Course at Lifesaver Education.
     _________________________________________________________________________________

 ALL  our discount codes are on Facebook
so visit our page !
  http://www.facebook.com/educatesimplify
Yelp! us
by writing a review
 after taking the class
&
Earn a $5 Starbucks gift card !!
http://www.yelp.com/biz/creativeresol-ve-educational-company-los-angeles
__________________________________________________________
Contact Us:
                              1.888.327.0003
                              213.300.5045     local
 Our Class Coordinator, Taezsa S.,
 is standing by
 to answer any questions
Visit our website:
http://www.educatesimplify.com/
When & Where
3580 Wilshire Blvd Suite 1705 C
Metered Parking across Kingsley. Free after 6 pm.
Los Angeles, 90010


Sunday, January 1, 2017 from 9:00 AM to 4:00 PM (PST)
Add to my calendar
Organizer
BVNPT Approved IV Therapy & Blood Withdrawal Course
American Heart ACLS, BLS, PALS, NRP, Workplace CPR
     Call to Register!    213 300 5045       1 888 327 0003 
Educate Simplify dba: CreativeResol-ve Healthcare Education Company was founded in 2006 and offers an array of educational services ranging from American Heart Association courses to Continuing Education courses for medical, nursing and allied health professionals. 
Use of American Heart Association materials in an educational course does not represent course sponsorship by the American Heart Association. Any fees charged for such a course, except for a portion of fees needed for AHA course materials, do not represent income to the Association