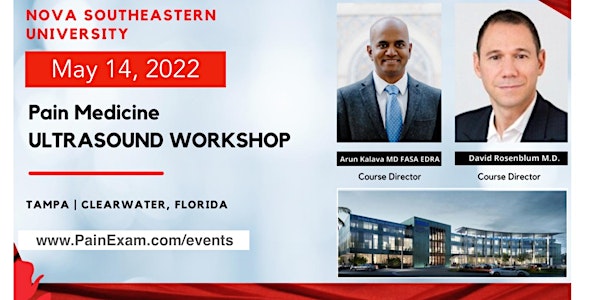 NRAP Ultrasound Experts: Pain Medicine Ultrasound CME Workshop
1 day workshop for physicians of all levels who treat pain, perform regenerative medicine procedures, joint injection and nerve blocks.
When and where
Location
Nova Southeastern University - Tampa Bay Regional Campus 3400 Gulf to Bay Boulevard Clearwater, FL 33759
Refund Policy
Contact the organizer to request a refund.
Eventbrite's fee is nonrefundable.
About this event
Pain Medicine Ultrasound Workshop
Tampa | Clearwater, FL, USA
May 14, 2022
This activity is approved for AMA PRA Category 1 Credit (6.0 CME Credits)
 Registration Fee Includes: 1. Course Fee 2. Meals (Breakfast | Lunch) 3. Graduation Fleece Jacket
COURSE DIRECTORS
David Rosenblum M.D.,
Director of Pain Management, Maimonides Medical Center, New York
Director, AABP Integrative Pain Care
Founder & Director, PainExam Board Review & Podcast
Arun Kalava, M.D., FASA, EDRA
Founder & Director, Acute Pain & Ketamine Clinic, Tampa, FL
Founder & Director, Ultrasound Experts
Assistant Professor of Anesthesiology, University of Central Florida
Agenda
07:30 Registration & Breakfast
08:00 Indications and Applications of US Guided Pain Medicine Procedures
08:10 Head & Neck
           Greater Occipital Nerve Block
           Trigeminal Nerve Block
           Stellate Ganglion Block
08:25 Truncal Blocks
Intercostal Nerve Block
Ilio-inguinal Nerve block
Genitofemoral Nerve block
TAP Block
08:40 Pelvis & Lower Extremity
Pudendal Nerve Block
Piriformis Muscle Injection
Lateral Fem Cutaneous Block
Femoral Nerve Block
Saphenous Nerve Block
Genicular Nerve Block
Sciatic (Popliteal) Nerve Block
Sural | Tibial | Superficial Peroneal
09:00 Coffee Break
09:10 Upper Extremity
 Suprascapular Nerve Block
Axillary Nerve Block
Median Nerve Block
Ulnar Nerve Block
Radial Nerve Block
09:30 Spine & Joints
Facet (Cervical |Lumbar)
Medial Branch (Cervical | Lumbar)
Caudal Epidural
Shoulder Joint Injection
Hip Joint Injection
Knee Joint Injection
09:55 Coffee Break
10:00 Hands on Scanning: Live Models
12:00 Lunch
13:00 Hands on Scanning: Live Models
15:00 Needling practice | Nerve Block Simulation on NYSORA Phantoms
* This is a tentative course itinerary. Lecture times/day may be subject to change
Disclosure: While offering CME credits this activity is not intended to provide extensive training or certification for the performance or interpretation of Ultrasound-Guided Pain Procedures. We recommend working under supervision until an accepted level of proficiency has been achieved.
For more information, Click here...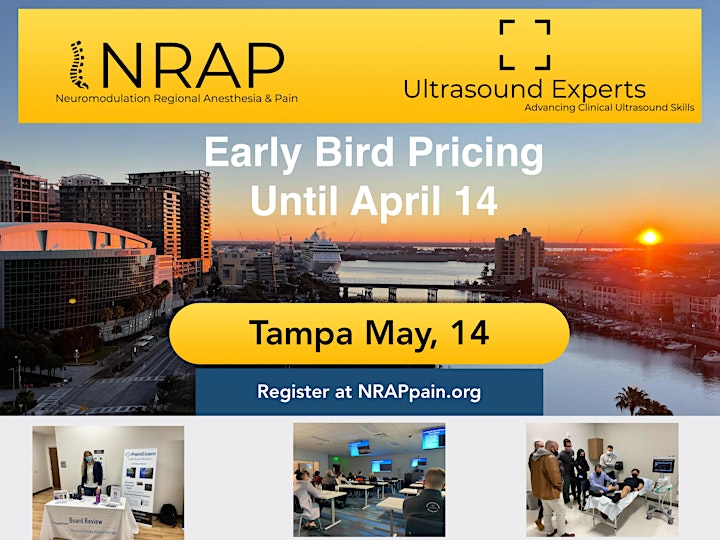 Pain Medicine Ultrasound Workshop
Activity Description:
This 1 day intensive workshop has been developed for both novices and advanced pain physicians providers who would like to either learn
the basics or further advance their skills in ultrasound guided pain procedures. Participants will have up to 5 hours of hands on ultrasound scanning on live models of different body habitus to learn and identify different sono‐anatomy. A pre‐course reading material will be provided to minimize didactic portion of the workshop. At the end of the workshop, you will be expected to have gained thorough knowledge and immense confidence in the use of ultrasound for pain procedures
Target Audience:
Pain Physicians
Learning Objectives:
As a result of participating in this activity, the learner will be able to:
• Describe and discuss the basic principles of ultrasound
• Identify normal sono‐anatomy and aberrations
• Describe nerve blocks and procedures for various pain conditions
• Increase the ability to detect critical structures and improve patient safety while performing pain procedures
• Demonstrate needle insertion techniques for ultrasound guided nerve blocks, both in‐plane and out‐of‐plane
• Improve block success rate and patient satisfaction
• Perform spinal | epidural and large joint imaging with ultrasound
Accreditation
Maimonides Medical Center is accredited by the Medical Society of the State of New York to provide continuing medical education for physicians.
Maimonides Medical Center designates this live course for a maximum of 6 AMA PRA Category 1 Credit (s) TM. Physicians should claim credit commensurate with the extent of their participation in the activity.
Disclosure Statement
Policies and Standards of the Medical Society of the State of New York and the Accreditation Council for Continuing Medical Education require that speakers and planners for continuing medical education activities disclose any relevant financial relationships they may have with commercial interests whose products, devices or services may be discussed in the content of a CME activity.
COURSE FEE
• Early Bird Registration: $975.00 (30 days prior to course) • Regular Registration: $1,200.00
• Onsite Registration: $1,500.00
Registration:
Please Register at: www.UltrasoundExperts.org or www.PainExam.com
CANCELLATION/REFUND POLICY
Cancellations must be requested in writing via e‐mail to contact ultrasoundexperts@gmail.com. 50% of the course fee is refundable if cancelled more than 60 days prior to the course. No refunds are allowed for cancellations made anytime if the day of cancellation falls with 60 days from the day of the course. There are no refunds for no‐shows; Colleague substitutions are welcome without penalty for the registered course.
Arun Kalava MD and David Rosenblum, MD reserves the right to cancel this activity due to unforeseen circumstances, in which the full registration fee will be refunded. Arun Kalava, MD and David Rosenblum, MD are not responsible for travel expenses incurred by the participants in the unlikely event that this activity is cancelled.
Location:
Multiple Locations: Please refer to www.PainExam.com for dates and location
Additional Disclaimers & Disclosures:
Relevant Financial Relationships
David Rosenblum, MD:
Consultant for Clarius, Pfyzer, Sprint therapeutics
Arun Kalava, MD: Employee or independent contractor relationship with CIVCO ‐ product group (Ended); Consultant for Sonosite, Nalu – product group (Ended); Speakers Bureau – Wisonic (Ended).
Disclaimer
The information provided at this CE activity is for continuing education purposes only and is not meant to substitute for the independent medical/clinical judgment of a healthcare provider relative to diagnostic and treatment options of a specific patient's medical condition.
For disability accommodations contact Arun Kalava MD, contactultrasoundexperts@gmail.com Phone: 646‐620‐5245 within five days of the event.
Accommodations
Please Refer to www.ultrasoundexperts.org for Hotel Accommodation
Agenda:
One Day Intensive Course: (8AM‐3PM)
• Basics of Ultrasound: Gain, Depth, Probe selection, Scanning techniques & Needle localization • Head & Neck: Greater Occipital Nerve Block | Trigeminal Nerve Block | Stellate Ganglion Block • Upper Extremity: Posterior Suprascapular Nerve Block | Axillary Nerve Block | Median Nerve Block | Ulnar Nerve Block | Radial Nerve Block
• Truncal (Thoracic + Abdominal): Intercostal Nerve Block | Ilio-inguinal/Iliohypogastric nerve block | Genitofemoral nerve block
TAP Block
• Pelvis & Lower Extremity Nerve Blocks: Pudendal Nerve Block | Piriformis Muscle Injection | Lateral Femoral Cutaneous Nerve Block | Femoral Nerve Block | Saphenous Nerve Block|
Genicular Nerve Block | Sciatic (Popliteal) Nerve Block | Blocks for Foot & Ankle (Sural | Tibial | Superficial Peroneal)
• Spine & Joints: Facet Joint (Cervical |Lumbar) | Medial Branch (Cervical | Lumbar) | Epidural (Lumbar) | Shoulder Joint Injection | Hip Joint Injection | Knee Joint Injection
• Live Scanning on Multiple Adult Standardized Patients • Techniques: In‐plane and Out‐of‐ plane techniques
Further Information
If you have credit related questions, please contactultrasoundexperts@gmail.com