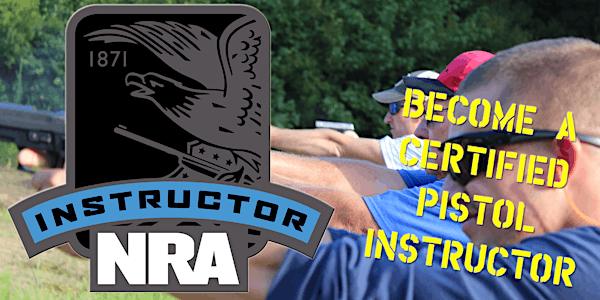 NRA Pistol Instructor Training
Date and time
December 28, 2015 · 8am - December 29, 2015 · 6pm EST
Location
Home Front Freedom PO Box 777 Newport, NC 28570
Description
Become an Instructor
Since 1871, a major objective of the National Rifle Association has been to provide education and training in the safe and proper use of firearms. Knowing how to shoot is an important requirement for NRA instructors, but you will also need to know how to teach others to shoot. This NRA Pistol Instructor Training Course will help you develop the additional knowledge, skills and techniques needed to organize and teach courses in the NRA Basic Pistol Training Program.
Instructor courses are taught by NRA Training Counselors. Your Training Counselor is Erik Heck of Home Front Freedom. With 22+ years of firearm instructor experience, you will leave this course well equipped to instruct all levels of potential students. This certification is an excellent way to begin your journey to teach North Carolina Concealed Carry Handgun (CCH) classes.
To qualify as an NRA Instructor:
Candidates must possess and demonstrate a solid background in firearm safety and shooting skills acquired through previous firearm training and/or previous shooting experience. Instructor candidates must be intimately familiar with each pistol action type.
Candidates will be required to demonstrate solid and safe firearms handling skills required to be successful during an instructor training course by completing pre-course questionnaires and qualification exercises administered by the NRA Appointed Training Counselor.
Candidates must satisfactorily complete an NRA Instructor Training Course in the discipline they wish to teach (e.g., NRA Basic Pistol Course), and receive the endorsement of the NRA Training Counselor conducting that training.
During the course, you will learn NRA policies and procedures, basic public speaking skills, training methodology, use of a training team and training aids, organizing a course, building a budget, and finally preparing to teach. In addition, you will be provided the appropriate lesson plans and basic course student packets. Role-playing is a major part of an instructor course; therefore, the minimum class size is at least four candidates, with 10-12 candidates being ideal. You will all take turns working in teams, actually conducting portions of the course to other candidates who portray basic students.
The Training Counselor will evaluate your performance based on your ability to handle the firearms with confidence, use of appropriate training aids, following the lesson plans and meeting all learning objectives, while utilizing the teaching philosophies expected of NRA Certified Instructors. You can also expect to learn the NRA Basic Pistol instructional methods and evaluating and improving the performance of beginning shooters. Candidates will be provided with the NRA Trainer's Guide, appropriate Lesson Plans and Outlines, Basic Course Student handbooks, certificates, basic student examinations, Winchester/NRA Marksmanship Qualification Program booklet, Basic Firearm Training Programs Brochure, Gun Safety Rules brochure, NRA Trainer's Examination and NRA Basic Pistol instructor examination (minimum passing grade is 90%).
NRA Certified Instructors provide an invaluable service in their communities by training hundreds of thousands of individuals annually. As more Americans choose to exercise their right to own a firearm, so too grows the need for these courses.
You can be the vital element in meeting this need by becoming an NRA Certified Instructor and conducting NRA Basic Firearm Training Courses. As an instructor, you can experience the personal satisfaction of teaching others the basics - the knowledge, skills and attitude that will lead to a lifetime of safe, enjoyable and successful involvement in firearm and shooting activities.
NRA Certified Instructors are expected to:
Conduct NRA Basic Courses in accordance with policies and procedures outlined by NRA
Uphold the quality and integrity of national firearm safety and training standards established by NRA
Promote firearm safety and the shooting sports
Report training data to NRA
Instruction time is 16 hours (6 hours day one, 10 hours day 2)
You will be emailed location and other various details upon registering for this class.
About the organizer
Our Mission…
In a society that is driven by much hype and misinformation about guns and the like such, Home Front Freedom will endeavor to provide firearms training and education in the selection, safe handling, practical use and proper storage of firearms inside and outside of the home.  We will provide you up to date and factual information and how it relates to everyday life.  It is our earnest desire to help make America a safer place.