#NR4EVER FRIGHT NIGHT

Thursday, October 31, 2019 from 7:00 PM to 11:00 PM (CDT)
Event Details
$8ADV - $12 DoS | ALL AGES | Doors @ 7PM
with Special Guest Camera Cult
COSTUMES ENCOURAGE | FREE CANDY | PHOTOBOOTH | COSTUME CONTEST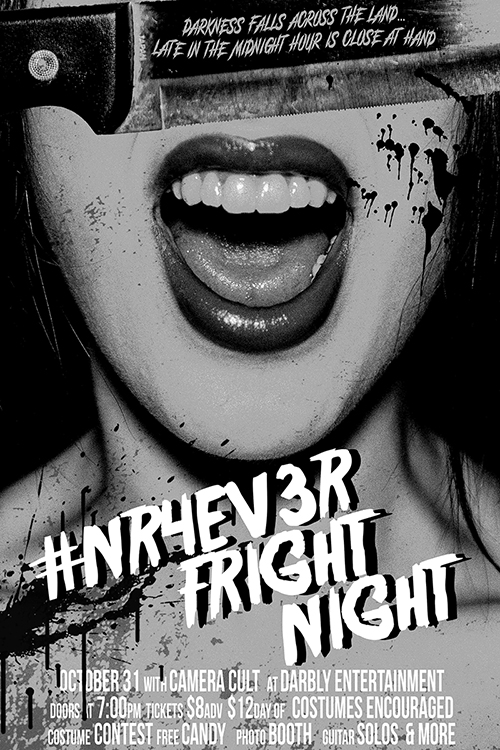 The band with the peculiar name, no rehearsal. Whether they actually rehearse or not is a question for another time, but something that's not in question is their ability to blend the elements of Blues Rock's blistering guitar solo's with the subtle grooves of an Indie Rock rhythm section packaged into your favorite songwriting and melodic elements of pop music.
The band's focus is to break the preconceived notion that "young people" can't keep up or have music of both technical and emotional value. no rehearsal's sound seamlessly melds together guitar-heavy pop sensibilities of John Mayer, the melodic intricacies and atmospheric tones of The Neighbourhood, the raw and gritty blues packaged for mainstream media shown in The Black Keys, and the band dynamic and ability to just make solid pop music seen in The 1975.
CAMERA CULT
Camera Cult is an American indie/pop band based in Houston, TX formed in 2014 by David Gonzalez and Ricky J. Vasquez. The band's first two singles "Heart Brakes" & "Don't Hang Out" were heavily influenced by 80's synth-pop and disco. Camera Cult would soon traverse into a more contemporary pop sound with the dark and upbeat single "Vice Grips" in 2017. That same year the band would release "Between The Scenes" and ,crowd favorite, "Camaro" which showcased much more of an indie rock influence to their polished pop aesthetic. 
After enlisting Skyler Scholtes on the drums, Camera Cult began work on their debut EP "TALKNICE". The EP would be a culmination of all of their pop and indie rock influences rolled into to one solid project. After being released in summer of 2018, "TALKNICE" propelled the band's status into more regional recognition. The smooth and sexy "Location" was the EP's lead single and a fan favorite. 
Camera Cult would become one of Houston's premier live acts opening for the likes Boy Pablo, Conan Gray, and The Griswolds among others.  Their live sets are fun, upbeat, energetic, and sweaty displays of raw, unhinged dance parties. 
Camera Cult is currently writing and recording new music to be released through out 2018 and is aiming to be the best the band has to offer yet. 
When & Where

DARBLY
7800 Amelia Road
Houston, TX 77055


Thursday, October 31, 2019 from 7:00 PM to 11:00 PM (CDT)
Add to my calendar
Organizer
DARBLY is a technology driven entertainment company who partners with artists to develop, create and promote highly immersive content and experiences. With a passion for the independent artist and an expertise in business, technology and analytics, DARBLY provides resources across ARTIST management and development, CONTENT creation and promotion and EVENT curation and production for its partners and clients.