NPT presents CANCER: THE EMPEROR OF ALL MALADIES: Screening and Panel Discu...
Location
Vanderbilt University Student Life Center
310 25th Ave. South
Nashville, TN 37240
Description
Nashville Public Television, Vanderbilt-Ingram Cancer Center, American Cancer Society, and Gilda's Club Nashville welcome you to screen a 40-minute video segment followed by a panel discussion of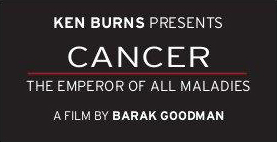 Come preview a 40 minute inspiring and informative video segment from Ken Burns' series Cancer: The Emperor of All Maladies followed by an expert panel discussion with an opportunity for Q&A. The story of the war on cancer spans centuries and continents. It is a scientific story but also a deeply human one: of doctors, researchers, and especially patients who--through courage, suffering, and occasional hubris--pushed the boundaries of knowledge.
The panel consists of a researcher, survivor and volunteer:
Research. Carlos L. Arteaga, MD, Director, Center of Cancer Targeted Therapies, Associate Director for Clinical Research, Vanderbilt-Ingram Cancer Center, President, American Association for Cancer Research.
Survivorship. Felice Apolinksy, LCSW. Program Director, Gilda's Club Nashville.

Volunteerism. Christopher Brown, American Cancer Society volunteer. He is the chair of the Nashville Board of Directors.

Doors open at 5:30 pm. Event begins promptly at 6:00 pm

Light refreshments will be served.

FREE VALET PARKING
FREE SELF PARKING at 25th Ave. Parking Garage
____________________________

At a later date:
Tune in to NPT Channel 8 to watch the broadcast of Cancer: The Emperor of All Maladies (www.thestoryofcancer.org) which ells the complete story. It is a three-part, six-hour major television event from preeminent documentary filmmaker Ken Burns based on the 2010 Pulitzer Prize-winning book by Dr. Siddhartha Mukherjee, airing March 30, 31 and April 1on NPT.