Description
In our continued effort to be a valuable arts and culture resource center, to help facilitate our move, and to continue our signature programs and impact within the city of Newark, New Jersey, we are excited to announce our NPS Art Auction & Impact Awards Benefit Event.
Join us on Saturday, December 8, 2018 7-11pm at Newark Print Shop for a night of art and celebration!
The event will include a live music jazz hour, premium open bar, small bites buffet stations from favorite local restuarants, Impact Award presentation, silent art auction, dance party and beats, and an after-party.
Art Auction
Guests will have the opportunity to take home original works of fine art prints donated by contemporary printmakers.
Sounds:
DJ Fauzi
Small Bites and Drinks:
All Points West Distillery
Barcade
Black Swan Espresso
Marcus B&P
Meatball Obsession
Rhythm N Food
Honorees: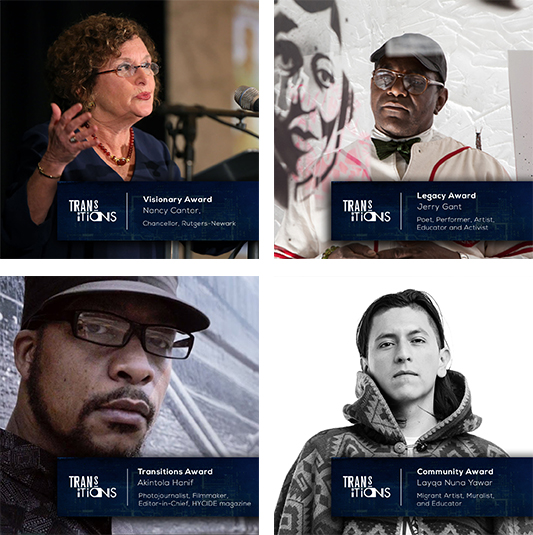 About our Honorees:

Nancy Cantor, Chancellor, Rutgers-Newark, Visionary Award
Nancy Cantor is Chancellor of Rutgers University–Newark, a diverse, urban, public research university. A distinguished leader in higher education, Cantor is recognized nationally and internationally as an advocate for leveraging diversity in all its dimensions, re-emphasizing the public mission of colleges and universities as engines of discovery, innovation, and social mobility, and achieving the fulsome potential of universities as anchor institutions that collaborate with partners from sectors to help their communities thrive. At Rutgers University–Newark, she leads and promulgates efforts to leverage the university's many strengths, particularly its exceptional diversity, tradition of high-impact research, and role as an anchor institution in Newark, New Jersey, through strategic investments in five broad areas in which the university's strengths align with those of cross-sector partners: educational pathways from pre-K through college; equitable growth through urban entrepreneurship and economic development; cultivating creative expression through the arts and culture; strong, healthy and safe neighborhoods; and science in the urban environment.

Jerry Gant, Poet, Performer, Artist, Educator and Activist, Legacy Award
Jerry Gant, renowned Newark native, is a visual artist, poet, performance artist and educator. He had his start as a 1980's street "graf" (graffiti) artist in New York City. His powerful street murals can be seen in major urban centers nation and worldwide: New York City, Boston, London but, most of all, in his city, Newark — "artists are friendlier here than in New York," Gant said. As a multi-disciplined visual fine artist, arts educator, activist and self-driven historian, Jerry Gant seeks to create work which reflects the human spirit of the community's people, while challenging conventional thinking. He has been a fixture on the arts and culture scene in Newark, New Jersey for more than 25 years. Jerry's long list of accomplishments span the literary, performing and visual arts boasting numerous solo projects and group exhibitions, as well as outstanding critical reviews and awards.

Akintola Hanif, Photojournalist, Filmmaker, Editor-in-Chief, HYCIDE magazine, Transitions Award
Akintola Hanif's work is heavily rooted in cross-cultural photojournalism; fine art photography; media coverage and documentation of quality of life, education and class issues. His work has been featured in solo and group exhibitions included such venues as The Smithsonian Museum of African American History and Culture, MoCADA Museum, City Without Walls, The New Jersey State Museum, The Museum of Contemporary Photography, the ‪Guggenheim Museum, galerie baudoin lebon, Paris, Tiwani Contemporary in London. Akintola's work has received favorable critical review and coverage by The New York Times, The Star Ledger, The Washington Post, The Village Voice, MTV and many others. In May of 2011 he launched HYCIDE, an online and print photojournalism and arts magazine dedicated to stories of survival and freedom. HYCIDE provides an intimate glimpse into the lives of marginalized people around the world and features the work of cutting edge emerging and established artists. The entire collection of HYCIDE was recently acquired by the Metropolitan Museum of Art, The Newark Library, the Schomburg Center for Research in Black Culture, the International Center of Photography, and the Library of Congress.

Layqa Nuna Yawar, Migrant Artist, Muralist, and Educator, Community Award
Layqa Nuna Yawar migrated from Ecuador to the USA at an early age. His art and life having been greatly impacted by the immigrant experience and by his own multicultural identity. His artwork developed out of a traditional visual arts education, a practice of street art interventions and independent self-organization principles. His public art aims to reflect and amplify silenced voices by using the power of monumental art and representational painting in public space in order to create safe spaces for imagination and identity projection. By creating murals with the involvement of host communities, these landmarks can help us imagine and create a better and brighter future. Some of the projects he is involved in include: Young New Yorkers in New York as a founding member, teaching artist and benefit curator, working with Conect-Arte and the United Nation's World Food Program in El Salvador as a teaching artist, Gateways to Newark: Portraits in Newark, New Jersey as muralist and curator, and as a mentor for NYFA's Immigrant Artist Mentoring Program in Newark.

Event Sponsors:
We are grateful for the support of our sponsors for making this benefit event possible!