About this Event
Mark your calendars for our next NPRA of DFW Meeting - Friday September 6th at 9:30 a.m. at Atria Canyon Creek in Plano!
Steve Benton, with the Senior Source's Elder Financial Safety Center will discuss Preventing Elder Financial Abuse & Exploitation.
NPRA of DFW's Executive Board will be formally introduced, and the mission of the organization will be reviewed.
Those serving on the Board are:
John Alagood, President
Kristi Vance, Vice President
Tim Painter, Secretary
Joyce Logan, Treasurer
At Large: Bent Schoellhorn, John McNair, Travis Franklin and Don Irish.
Thank you for being a part of this new organization. We are excited about the work we are doing. The DFW Chapter of NPRA is working diligently with the NPRA to spread national best practices and provide accountability for placement services in DFW and throughout Texas. If you have not yet joined us for a meeting, we hope to see you in September! Join the National Movement that is changing the Placement and Referral Industry!
PLEASE NOTE: You are allowed two visits as a guest to membership meetings and then must become a member.
Please RSVP no later than August 1, 2019
Please feel free to reach out to us with any questions, feedback, or suggestions. Contact: Travis Franklin at travis@franklinbrokerage.com, NPRA of DFW Board Member
Thank you to Atria Canyon Creek and Patty Heath for hosting our meeting!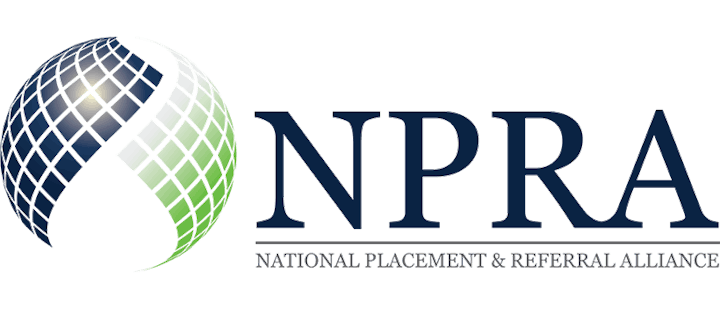 Unable to attend? RENEW or JOIN NOW...
AGENT MEMBERSHIP - CLICK HERE
AFFILIATE MEMBERSHIP - CLICK HERE
CORPORATE MEMBERSHIP - CLICK HERE
Receive Your Member Directory Listing Today!
Your collaboration with NPRA is going to position you to accomplish:
ADVOCACY
Promote the evolution and advancement of the senior placement and referral profession. Influence public policy on behalf of our clients and their families by protecting their rights.
EDUCATION
Develop a higher understanding to educate consumers, clients and families regarding the roles, responsibilities, and benefits of working with an NPRA professional in the senior care arena.
SOCIAL CHANGE
We represent clients, families, and professionals delivering senior care. We are progressive and politically active to protect our clients, and our membership and our sponsors.
ACCOUNTABILITY
Our 'Best Practices' is a working document to provide increased awareness of roles, responsibility and practice standards. Our 'Code of Ethics' and operational standards will be integrated into the National Certification. Continuing education and professional development are vital components. The certification will provide accountability and establish professional standards for members.