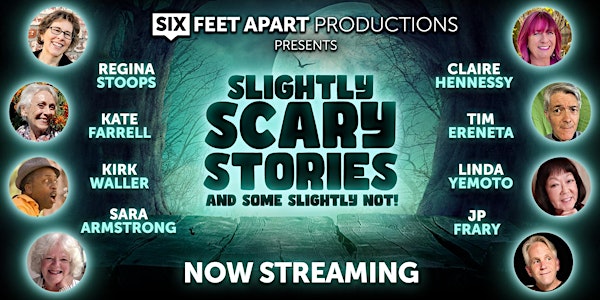 Now Streaming Slightly Scary Stories (and some slightly not)
Now Streaming on YouTube Slightly Scary Traditional and True Personal Stories
Refund Policy
Contact the organizer to request a refund.
Eventbrite's fee is nonrefundable.
About this event
This show features eight storytellers spinning both slightly scary traditional and personal tales and was recorded live at the Mechanics Institute in San Francisco.
The show is streaming on YouTube and your ticket allows you to stream the show until November 30th.
Slightly Scary Storytellers:
Emcee and Teller: Claire Hennessy is a founder and co-producer of Six Feet Apart Productions. Claire is a British-born award-winning storyteller, podcaster (The Bonkers Brit) and author, who has been published in award-winning anthologies and is hoping to find an agent for her humorous memoir before she is too old to go on a book tour. She is one of the organizers of the in person/virtual Bay Area Storytelling Festival.
Emcee and Teller: Regina Stoops is a founder and co-producer of Six Feet Apart Productions. Regina is a writer, comedian and award winning storyteller who spins stories on stage as well as in print. Regina has developed humor as her weapon of choice to help tackle diversity, adversity and suburban chaos. Her storytelling ability was born from the need to stay one step ahead of her kids' constant inquiries about Santa, time travel, common core math and what's for dinner. She is one of the organizers of the in person/virtual Bay Area Storytelling Festival.
Sara Armstrong, PhD, has been an educator for nearly 50 years. First as a classroom teacher and principal, and then as a provider of professional development, she wove stories into her curricula. She is currently the chair of the Storytelling Association of California (SAC), is one of the organizers of the in person/virtual Bay Area Storytelling Festival, and enjoys researching, crafting, and telling mostly traditional tales to adults.
Linda Yemoto served as a park naturalist for over 35 years and recognized early how stories could enhance the messages in her nature programs. Today she loves adding natural and cultural information to her folktales and personal stories. She served on the Board of Directors for the National Storytelling Network for six years and has chaired the Bay Area Storytelling Festival for over 30 years. Since retiring, she volunteers as a storyteller and docent as the SF Asian Art Museum where she enjoys interpreting the art through storytelling. Find out more!
Tim Ereneta has told stories on stages from Washington, DC, to Chennai, India, performing in theaters, art museums, camps, churches, and nightclubs. Tim believes traditional tales are too much fun to be limited to children, so he seeks out adult audiences to share these stories with timeless themes. The Washington Post called Tim's "methodical manner and quiet wit... a refreshing change of pace." Tim lives in Berkeley, California.
Kate Farrell, storyteller, author, librarian, founded the Word Weaving Storytelling Project, trained thousands of California teachers, and published numerous educational materials on storytelling. She has contributed to and edited award-winning anthologies of personal narrative, and is the author of Story Power: Secrets to Creating, Crafting, and Telling Memorable Stories.
JP Frary designs and builds furniture in a shop on the old Alameda Naval Air Base. He specializes in making unique and beautiful things out of recycled materials. His stories can be heard in hardware stores and lumber yards throughout the Bay Area. JP has won the StorySlam at The Moth and StorySlam Oakland and has performed all over the Bay Area. He also hosts the Moth on occasion.
Kirk Waller has garnered national recognition for his storytelling, including appearing at the National Storytelling Festival in Jonesborough, Tennessee. In addition to being the Director of Storytelling at Stagebridge in Oakland, he is the former chair of the Storytelling Association of California and member of the advisory board of Tell It On Tuesday at the Marsh in Berkeley.