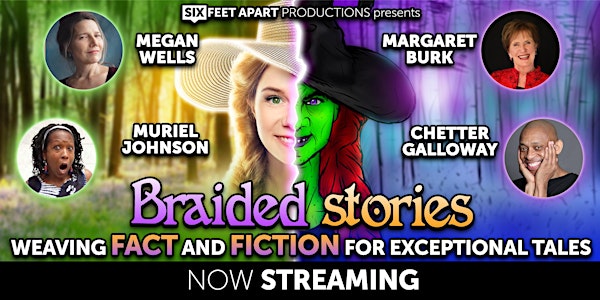 Now Streaming - Braided Stories - Weaving Together Tales of Fact & Fiction
Refund policy
Contact the organizer to request a refund.
Eventbrite's fee is nonrefundable.
Traditional and True personal stories blended together to create one exceptional evening.
About this event
This online show is available for streaming on YouTube Live. Ticket allows you to watch multiple times, whenever you like. Ticket sales end August 15th and the show can be streamed until August 31st.
Join us for an evening featuring stories that are both traditional and personal, seamlessly woven together to make one exceptional tale.
Emcee: Claire Hennessy
Storytellers:
Margaret Burk co-produces and co-hosts BACK ROOM STORIES in Oak Park, IL. After a career in arts administration, she returned to her first love - the spoken word. Margaret performs throughout the Chicago area and virtually on shows across the country. She is published in Chicago Storytellers from Stage to Page. Margaret teaches Sharing Your Legacy classes and workshops. She believes that our stories are heirlooms - gifts to future generations. www.margaretburk.com/
Megan Wells is a respected and experienced story and theater artist. She is known for creating an intimate storytelling atmosphere, infusing her characters with living souls, and delivering the experience with delicious theatrical timing. An award winning storyteller, Megan performs in museums and symphonies, enhances education for thousands of children, entertains families in festivals and libraries, and helps executives, actors, and storytellers craft powerful stories to effect change.Megan is also among the top literary storytellers in America. As the Artistic Director of the Ray Bradbury Storytelling Festival, Megan was granted permission by Ray himself to perform his works. Additionally, she is equally comfortable in the jazzier domains of Chicago's current spoken word explosion. www.meganwells.com/
Chetter Galloway grew up hearing his father tell stories on Sunday Road trips. One of his favorite stories was The Talking Skull, a West African cautionary tale where a man loses his head!Chetter is a graduate of East Tennessee State University with a Master of Arts degree in Storytelling and has performed for venues such as the Secret Society of Twisted Storytellers, RISK! The Moth, and Better Said Than Done. He is a member of the National Association of Black Storytellers, the Southern Order of Storytellers, and serves on the Board of Directors for Kuumba Storytellers of Georgia. In his spare time, Chetter is an avid runner who enjoys creating stories while he's running! Often described as engaging and entertaining, he www.chettergalloway.com/
Muriel Johnson was born and raised in Salisbury, MD. She grew up in an environment where language was celebrated. Her mother was an English teacher, actress and avid reader. As a child Muriel would sit in awe as her mother would read, tell stories, sing songs and recite nursery rhymes. By the age of five Muriel had acquired an extraordinary vocabulary, soaring imagination and gift of expression. It was only natural that when Muriel became a mother and later a teacher that she was compelled to share the same way her mother had shared with her. Muriel currently lives in the Bay Area of California, is the mother of three children and has been an Early Childhood Educator for 20 plus years. She has performed at pre-k and elementary schools, churches, museums, colleges, festivals and countless other venues from rural communities on the Eastern Shores of Maryland to the townships of Cape Town South Africa to the coastal communities of Ghana, West Africa. In 2014 Muriel was also a featured teller at the renowned Sierra Storytelling Festival in California, in 2017 she had the distinguished honor of emceeing the festival.
https://www.forherstories.com/