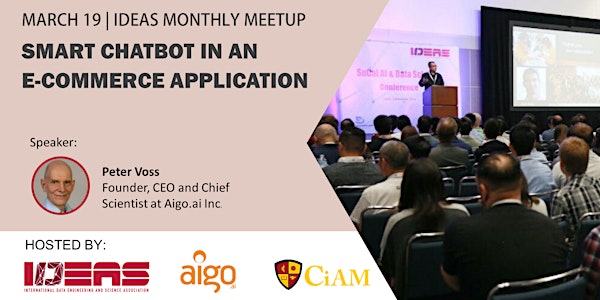 [NOW ONLINE]Meetup - Smart Chatbot in an E-Commerce Application
Smart Chatbot in an E-commerce application
When and where
Location
California Institute of Advanced Management (CiAM) 1000 South Fremont Ave. Building A-10, 4th Floor Alhambra, CA 91803
About this event
NOW ONLINE!!!
Registration HERE!!!
81% of online shoppers are more likely to buy from a company that offers personalized shopping experience, where the company's offerings are tailored based on individual shopper's preferences, history and needs.
And 74% of online shoppers say they feel frustrated when experiences aren't personalized.
The leading eCommerce brands started to respond to this demand in a concrete manner by creating entire consumer experiences that are personalized every step of the way.
Welcome to the age of hyper-personalization, which is shaping up to be the biggest breakthrough in the e-Commerce industry since mobile.
Hyper-Personalization transforms Customer Experience and Customer Experience dictates the level of Customer Engagement.
Ultimately the brands that engage most with their customers are the ones that will thrive in the digital economy.
e-Commerce companies now working with Smart Chatbot or 'Chatbot with a Brain' to deliver hyper-personalization at scale for millions of customers.
A Smart Chatbot that learns customer's preferences & needs interactively, remembers and understands what was said prior and utilizes that information in all future interactions, reasons and manages an ongoing meaningful conversation as it continues to hyper-personalize the customer experience is a game changer for e-Commerce companies.
Speaker's Profile:
Peter Voss is the Founder, CEO and Chief Scientist at Aigo.ai Inc.,
Peter's careers include being an entrepreneur, engineer and scientist. His experience includes growing a computer solutions company from zero to a 400-person IPO. For the past 15 years his focus has been on developing AGI (artificial general intelligence). In 2009 Peter founded Smart Action Company, which offers the only call automation solution powered by an AGI engine. He now heads up Aigo.ai Inc., which is developing and selling increasingly advanced AGI systems. Peter also has a keen interest in the inter-relationship between philosophy, psychology, ethics, futurism, and computer science.
Come and enjoy the meetup. You will get:
• The knowledge about Smart Chatbot in an E-commerce application
• The opportunity to meet with senior data scientists in different industry.
• The firsthand experience sharing from our keynote speaker about their career life and insight of industry trends.
• Get advises in designing your data career from the professional career mentor.
• Drinking water, Soda, snacks and chips will be served.
• The parking voucher will be provided.
Introduction of Hosts
International Data Engineering and Science Association (IDEAS)
IDEAS is a nonprofit organization which offers practical resources to help members connect and collaborate. Our members are individuals and organizations that are enthusiastic about developing Data Science skills, and also eager to exchange knowledge with other Data Science experts. We bridge the gap between academia and the industry. We build a data engineering and science hub by providing robust resources and connecting real-world expertise together from business leaders, professionals, and promising students. Our vision is to foster the data engineering and data science ecosystems and broaden the adoption of their underlying technologies, thus accelerating the innovations data can bring to society. We empower and nurture community growth by offering online resources, conferences, latest industry trends and data related job opportunities.
California Institute of Advanced Management (CiAM)
The California Institute of Advanced Management (CiAM) is a nonprofit graduate university specializing in experiential learning and responsible management. Our Mission builds from the wisdom of Peter F. Drucker, the Father of Modern Management, to produce leaders who have a deep understanding of their management responsibilities to achieve personal and societal success. We do this by delivering experiential learning in both traditional classroom and virtual environments.Students who enroll at CiAM have the opportunity to work on 6 consulting projects with real businesses. With real-world business experience as our core, we provide students the opportunity to build a portfolio of business accomplishments. CiAM, a WASC accredited educational institution, offers a general MBA and MBA with concentrations in Business Analytics and Project Management.