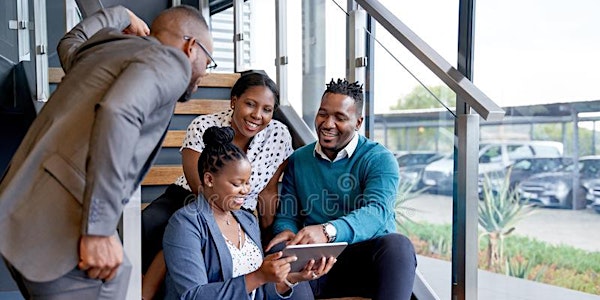 Now Hiring: Community Partnerships Associates (Remote)
Are you looking for a fulfilling career serving at the intersections of education, equitable economic development and poverty reduction?
Refund Policy
Contact the organizer to request a refund.
Eventbrite's fee is nonrefundable.
About this event
Title: Community Partnerships Associate - Urgently Hiring
Job Description: This is a position for a motivated individual with a high level of initiative, outstanding relationship building and collaboration, communication, facilitation and virtual appointment setting.
- Assumes primary responsibility for outreach and results of outreach efforts with relevant organizations, brands and individuals.
- Use FLP outreach templates to coordinate virtual meetings with Shatoyia and local community organizations to discuss hosting a Generational Wealth Bootcamp in communities
- Researches, writes and contributes to the collaborative development of proposals for grants and other funding opportunities.
- Handles sensitive and confidential materials in a professional manner.
- Occasionally host virtual generational wealth circles.
- Facilitates program development through knowledge of best practices, and identification of partner strengths and opportunities in addition to gaps in community care.
- Occasionally serve as community liaison with new and existing partner organizations, providing support and responding to queries as they emerge
- Assists in other First Ladies of Poverty Foundation community partnership initiatives and meetings as needed.
If you enjoy getting paid to facilitate relationships between organizations and brands to support programming regarding first generation wealth builders, poverty reduction, equity and inclusion and opportunity access, this is the perfect opportunity for you!
Compensation: $100 per partner/contract secured + 15% commissions of all contracts to start, 20% commissions of all contracts after completion of training + additional team benefits
- - - - - - - - - - - - - - -
Our leadership at First Ladies of Poverty Foundation has more than 15 years of direct and B2B selling expertise in the custom professional program development and coaching industries.
Our educational consultants consist of highly motivated, service and sales minded professionals that strive for growth and leadership. By finding and developing long-term, loyal customers, our people build lifestyles to support their personal and professional goals. Our customers are highly motivated, hardworking and often busy professionals who demand convenience, quality and excellent service in which we deliver to them.
What are educational consultants? Educational consultants at First Ladies of Poverty (FLP) Foundation find themselves shaping the client's quality of life by serving as an advisor in all things financial planning, financial management, business and wealth building education and matching our clients to the ideal programs for them to start or continue their business and wealth building journey to escaping the paycheck-to-paycheck lifestyle.
Their ultimate role is to connect their local community of aspiring or seasoned entrepreneurs or investors to our resources, training programs, scholarships and grants at the First Ladies of Poverty Foundation so that they can escape the paycheck-to-paycheck lifestyle.
Over the years, our sales success has allowed us to invest in our business to create several distinct advantages for our team members:
Entrepreneurial Model: Being privately held is critical to our retention of both sales professionals and clients. Our clients prefer to deal with a single representative and ongoing supportive community hub for a very long time. Therefore, our opportunity is designed to allow our sales professionals to build significant wealth and income by leveraging their own business and building clientele.
24/7 Ongoing Sales Training & Support ALWAYS: You will have lifelong sales training to learn the business and be successful at it because simply...your success is our success. The better you are, the better we are. And ultimately, the more you make, the more impact we make. When you win, we win, and when we win, you win. So, we teach you all things sales, building , honoring and nurturing relationships, managing leads and closing the deal to get clients in a way that is honorable, impactful and effective for long-term success.
Multiple Streams of Income Opportunity: Thanks to the way we have structured our business, there are at least 3 income streams you can leverage with our company. They say a millionaire has 7. You'll be halfway there.
Generous Commissions and Unlimited Earning Potential: We pay you what you are worth. You guarantee quality service for our clients and generate adequate sales, we guarantee quality support, company rewards/trips and of course, generous commissions that exceed market rate.
Work From Anywhere: You make your schedule. Work Full-Time or Part-Time
Financial Literacy & Wealth Building Education: We offer you a variety of educational tools and resources for you to begin building a legacy of wealth for yourself and your loved ones.
Founded on Integrity: Our word is our bond here at First Ladies of Poverty Foundation. Our business is built on honesty, transparency, community development and fair trade. Nothing less.
Sounds good? Register to learn more about the benefits of joining our team and how you can get started today!