About this event
Are you passionate about helping others? Are you looking for a fulfilling career in healthcare? Are you a licensed caregiver looking for great company ?
Are you looking new opportunities .....look NO FURTHER!
With DiscoverU Health, you can be the change you wish see in your community.
Follow these steps to get started:
Complete your free registration with Eventbrite (this will book your reservation for the job fair and secure your interview).
Complete job electronic job application ( you will get an email to complete the online application ). Please complete this and send supporting documentation before the job fair. If you do not complete this, we can no conduct an interview or give you a job offer.
Arrive to job fair on time, dressed professionally, with your updated resume and supporting documents.
Remember...you MUST BE LICENSED with the State of Maryland Board of Nursing.
Competitive Pay
GOOD LUCK!!!
Don't forget to SMILE : )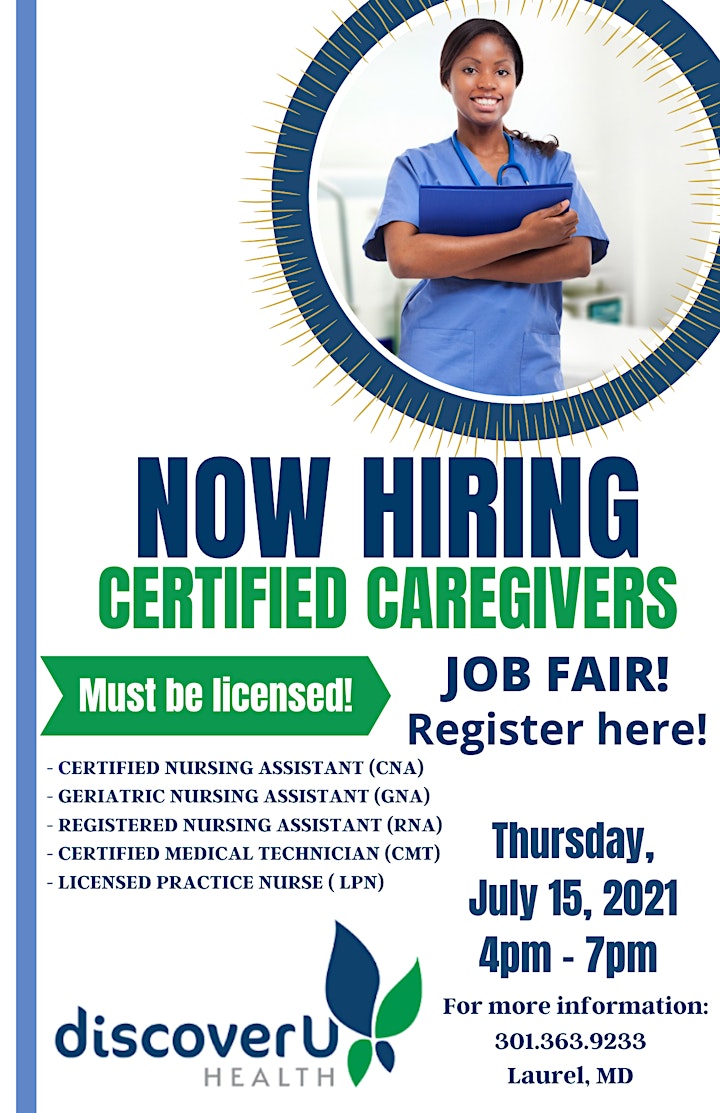 Organizer of Now Hiring- Certified Caregivers
DiscoverU Health's all-inclusive home care services that simplify the healthcare experience for seniors while increasing health and quality of life.
 Our unique approach 'bringing health specialists to you' seamlessly helps individuals and families 'discover a healthy living, wellness, and resources to maneuver through life challenges'.
Our Vision
To embrace diversity and inclusion, while honoring and respecting individuality; to restore quality and value in-home care for seniors; to advocate in the best interest of clients and families we serve.
Our Mission
To eliminate disparities and deficiencies in healthcare by improving transitional care and home care for seniors. To enhance the quality of care through our multidisciplinary team by providing all-inclusive tailored Health and Quality of Life Plans to enrich the quality of life, health, and happiness.
Learn more at www.discoveruhealth.net