Event Information
Refund policy
Contact the organizer to request a refund.
Eventbrite's fee is nonrefundable.
Novo Ita is an all-ages psychedelic immersive art, botanical, and audio/visual experience presented by Spectra Art Space.
About this event
Novo Ita is an all-ages psychedelic immersive art, botanical, and audio / visual experience presented by Spectra Art Space and the artists who brought you the Spookadelia series in conjunction with new artists, writers, actors, and technology teams.
Set in a prosperous "Post-Event" world, where humans are living in harmony with nature, and magical discoveries are being made. Guests will use augmented reality and tactile exploration to uncover the rich story of Novo Ita. Each section of this immersive art experience is interactive, beautifully crafted, and mind-bending. Challenging social and environmental issues, exploring societal challenges, and providing a fresh take on art consumption. Perfect for a unique date night or simply a safe, fun, and affordable way to get out of the house with the Family!
After guests journey through the city and discover all of Novo Ita's secrets, they are welcomed and encouraged to explore the wonderful Gallery filled with local artists and makers.
Special Note: To enhance your AR experience please bring headphones that are compatible with your phone or tablet!
Ticketing:
Admission tickets are available for every Wednesday – Sunday. Buy your pass in advance to guarantee the admission time slot you want.
General Admission: Timed at hourly intervals. You can arrive anytime within the hour to start your experience.
Once you enter the installation you have ONE (1) hour to explore.
$20 Adults | $12 Children (0-10 Years Old)
Priority Tickets + Art Swag Bag: grant you admission anytime during the day you purchase them on and gives you unlimited time in the installation.
$30.00
For information on booking large groups and private showings:
Please contact us via phone 720-535-7244 or email SpectraArtDenver@gmail.com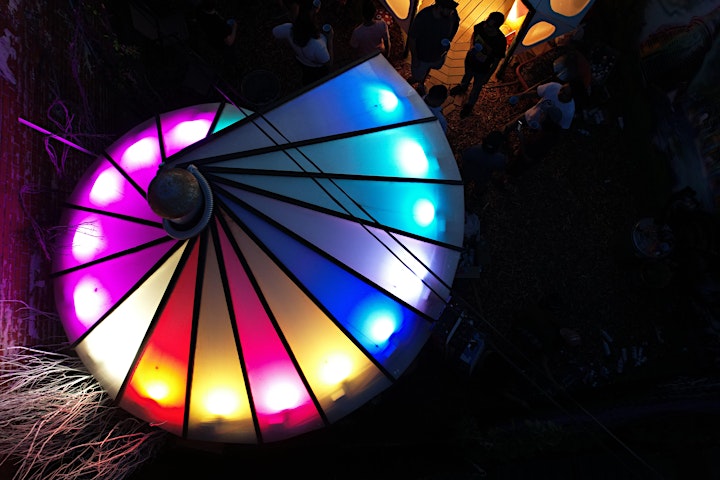 Meet the makers:
There will be a variety of installations created by local artists including Art by DAS who will be (Denver Meow Wolf), the Spectra Art Space core team who have created installations including Spookadelia 1, 2, and 3 Back to The source, Genius Wizard 2019, UMS Odyssey stage Far Out Factory Photobooth, Magic crystals at Cosmico Americas and so much more.
The following tec, landscaping, architecture, story, and artist teams have helped make this magic a reality. Thank you! Core build and landscape team Art By Das & Alex Clifford, Mike Kerr, Jason Summers, and Sadie Young, with help from Shannon Rose Bress and Mark Bress.
Story and Augmented reality team consisting of David Hanan of Be Here Virtually, with fantasy writer and voice acting director Caelan Donovan, illustrations by Casandra Edwards and Kfez, 3D rendering and printing by Sean Dennehy, video work by Juli Williams, directed by Sadie Young.
Lighting and Electrical team lead and sponsored by Karls Custom Electric and Low-Frequency Output, with sound design by Ryan Sorrell.
Murals and Paintings by Chris Bohlin, Rez, Ashley Blocker, Sage "Storm" Davis, Marisa (Luminate joy), and Ryan Lavelle (Synchroneyes) with assistance from Isaac Carpenter, Hayley Anise and Elizabeth Mackiewicz.
Contributing artists also include; Heather Willmeng, UC Sepia, Robert Carbajal, Ashkon, Adventures in Lilly Land, Life of a Paint Brush, Lisa Joanis, Merris "Maker Babe", Brittany De Los Santos, Bert Suarez, Gita Cornell, Bethany Armstrong, Jason Build Smith, and Sophie Perrine. With a big thanks to our gallery manager Grace Noel for holding down the gallery while we created the magic.
Lead by creative director Sadie Young: the owner of Spectra Art Space and installation artist, and Alex Clifford dwelling planner and builder.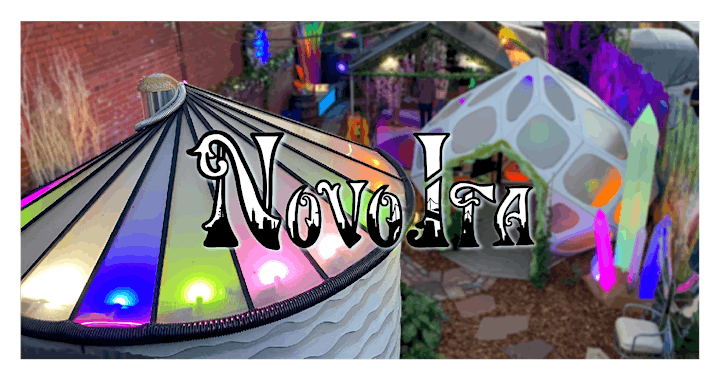 Location
Refund policy
Contact the organizer to request a refund.
Eventbrite's fee is nonrefundable.