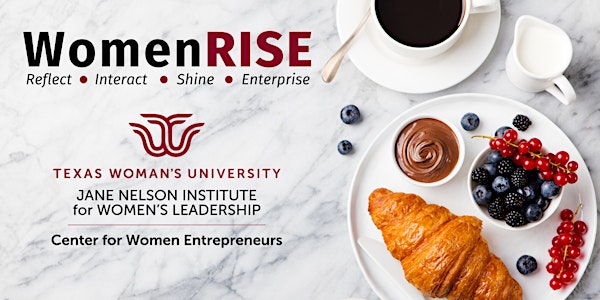 November WomenRISE In Person & Virtual
Funding Your Business
About this event
**In-Person & Virtual Event
Learn about Funding Your Business with Holly Burrow from Equall.com for our November WomenRISE.
In this workshop you will learn how to find the right type of funding to build your business.
After this workshop you will walk away with a deeper understanding of how to prepare for funding and what types of funding are the correct alignment for your business.
Everyone will receive the Zoom link regardless of how you register. Please do not register for both in-person and virtual.
In-Person Attendance
In-Person events will be held at Texas Woman's University, Denton Campus, Old Main Building, 2nd Floor, Rm 257.
Breakfast will be served at 7:30 AM. The official program starts at 8:00 AM. Come and network with other female entrepreneurs. Make sure you bring your business cards.
*It is a bit of a walk between the two parking areas and Old Main Building. You may want to consider wearing comfortable shoes to walk in and bring your dress shoes for the event.
*If you have special needs please email cwe@twu.edu to make special arrangements.
Parking Information
* Download ParkMobile @ https://parkmobile.io/ 
* Put in your information to include your license plate number.
* For the event, park in either the Visitor Parking Lot or on the 4th level of the parking garage. 
* Parking is FREE! The parking code will be included in your event confirmation.
* There will be directional signs to assist you in locating the event.
How to get from the parking garage to Old Main Building
How to get from the visitor's parking lot to Old Main Building
Online Attendance
If you are attending online you will receive the Zoom link to join. We will have an online host to help facilitate the event. We will continue to have pre/post networking opportunities.
Networking before the event: 7:35-7:55 am
Networking after the event: 9:05-9:25 am
Official program: 8:00 - 9:00 am
**All registered attendees will receive the replay link after the event.**
Speaker Bio
Holly Burrow is the founder of EqALL Business Solutions, we support startups and the spaces that help them grow. As a partner, we build client rapport, track growth metrics and help build a narrative of reportable success.
We work on the behalf of each organization to serve early-stage founders on an at-need basis keeping operations costs low through program support and development.
As a founder focused on serving, founder, Holly is an innovative and creative solution provider, is experienced as a small business growth strategist and has a commitment to agility for growth.
Today she focuses on growing community engagement, guiding entrepreneurs to capital and business development to open the door for new start-ups to find success. Using her experience as a founder she is committed to the growth of both entrepreneurs and their ventures.