November Salon: In the Cloud

Tuesday, November 13, 2018 from 6:00 PM to 8:00 PM (EST)
Event Details
In the Cloud:
Decrypting Cryptocurrency and the Cloud
November Salon: Tuesday, November 13, 6:30pm (But come for a drink and visiting at 6:00)
Okay. Admit it. Do you really understand the Cloud and Cryptocurrency? If you do, you are lying... You possibly spend a little too much time in front of your keyboard and don't get out much. But, it is not our place to judge.
The cloud is the fastest-growing technology market in the world. It's no longer a niche segment that requires a lot of explanation and hand-holding.
Join us as we develop a better understanding of the future.
Come learn from a couple cloud savvy experts, and become part of the discussion.
---


Our Speakers

KEITH COKER
Green Cloud
Keith is CEO of Green Cloud Technologies, an emerging company that helps clients understand and navigate cloud technologies.
Keith spent 14 years serving in various executive level technical capacities, including Chief Technology Officer at two telecommunications organizationswhere he managed $275 million of network infrastructure deployment, capital expenditures, and operating expenses. Keith also served as the Chief Technology Officer for HiBeam Internet and Voice, a 4G wireless services company.

Keith's experience at NuVox led to the development of some of the first "managed" services, including Firewall, Unified Messaging, Data Backup, Managed MPLS, Data Center and Google Mail. Green Cloud benefits from his extensive knowledge of top-of-the-line technologies.
Keith holds a B.S. in Electrical Engineering, Cum Laude from Auburn University and an M.S. in Electrical and Optical Engineering from the University of Arizona where he specialized in Dense Wave Division Multiplexing.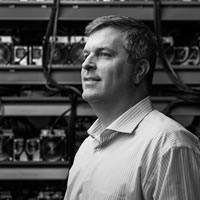 DAVID PENCE
Acumen IT | Treis Mining
Greenville SC Native.  Attended Clemson University with B.S. in Computer Engineering.  Started Acumen consulting right out of college.  Travelled the country as an IT Consultant full time for another firm.  Went back to Acumen and turned it into a full time career in 1999.  Greenville Chamber Business of the Year, Top 25 Fastest Growing in SC in two years back to back, Inc 5000 #1650.
Have started and owned businesses in China and Panama.  Started blockchain mining business in 2016 called DataGiant.  Started a mining and software development business in 2017 called Treis Blockchain.  Filed 1st patent for blockchain technology in 2018.
We are building the largest bitcoin mine in South Carolina with Treis Blockchain.
Admission is free, but registration is required.
Cash Bar at 6:00. Program begins promptly at 6:30.
Sponsored by: 

When & Where

ZEN
924 South Main Street
Greenville, SC 29601


Tuesday, November 13, 2018 from 6:00 PM to 8:00 PM (EST)
Add to my calendar
Organiser
TEDxGreenville was the first independently organized TEDx event in South Carolina. It all started in 2010 when a diverse, passionate group of TED enthusiasts from around the community came together with the singular goal of bringing an educational and inspirational TED-like experience to Upstate residents.
Now in its tenth year, the TEDxGreenville movement is igniting passions and building bridges like never before, while highlighting the incredible people and organizations that make the Upstate of South Carolina one of the best places to live on the planet. Yep, we said it.