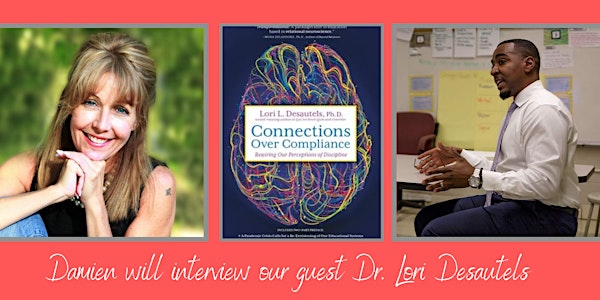 November Parent Social & Emotional Learning Training - Self-Love
Learn how brain science relates to Self-love through an exclusive interview with Dr. Lori Desautels.
About this event
Hello Parents and Educators!
Join us this November for an exclusive interview with Dr. Lori Desautels! This interview will discuss how the knowledge of how your brain works allows you to self-regulate. A person who has the power to self-regulate is able to have greater peace and joy in life while sustaining nurturing communities for our children. This month's theme is about self-love — we will discuss how your brain influences your behavior. Loving yourself through the practice of self-regulation will help you make an unbelievable impact on the kids in your life!
Dr. Desautels's passion is engaging students through the application of neuroscience as it applies to attachment, regulation, and educator brain state,
and teaching students and staff about their neuroanatomy, thus integrating Mind Brain Teaching learning principles and strategies into her coursework at Butler. Dr. Desautels has conducted brain institutes and workshops throughout the United States, Canada, Costa Rica, and Dubai on Mind Brain Teaching and Learning. She has created webinars for educators, clinicians, and administrators illustrating how educators and students alike must understand their neuroanatomy to regulate behavior and calm the brain.
Dr. Desautels has met with hundreds of school districts across the country, equating to more than 60,000 educators, with much more work to be done! She taught emotionally troubled students in the upper elementary grades, worked as a school counselor in Indianapolis, was a private practice counselor, and was co-owner of the Indianapolis Counseling Center. She was also a behavioral consultant for Methodist Hospital in Indianapolis on the adolescent psychiatric unit where she learned that emotional and mental illness can be so challenging for youth, but the brain can repair and heal, and resilience rests at the core of human nature and our well-being.
You won't want to miss this, only 120 tickets available! Registrants will receive regular updates, including the private link to attend the webinar.
If you miss out on securing a spot, don't worry, you can still watch and engage via Facebook on Damien's personal page. Click the link below to join the live webinar by 6 PM CST on 11/24/20.
https://www.facebook.com/profile.php?id=1906900
Regards,
~ Damien Howard
Sponsors:
Together Chicago, Willow Creek Church - Chicago Campus, Clever Characters LLC