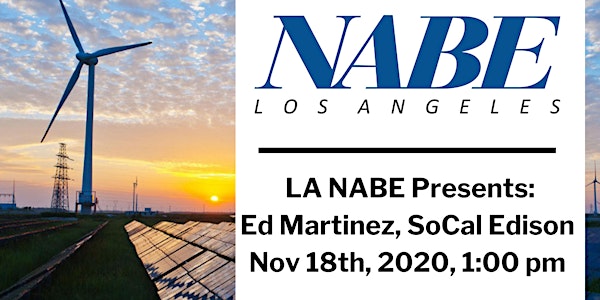 November Meeting of Los Angeles NABE
2020: A Year of Challenges for a Utility Forecaster. A Conversation with Eduardo Martinez, senior forecaster and advisor for SoCal Edison.
About this event
Forecasting always presents its challenges, but that has been especially true in 2020. COVID-19 not only changed our macroeconomic trajectory, the way we work and the way we consume, but also how we use energy. In a year for record natural disasters coupled with pre-existing challenges for our electrical grid, utility planners and forecasters have been at the forefront of addressing these impediments in creating economic augurs for future energy supply and demand. Join LA NABE for a conversation with Eduardo Martinez, senior forecaster and advisor for Southern California Edison, on how utility forecasters have grappled with the uncertainty of this tumultuous year.
Eduardo Martinez is a senior forecaster and advisor with Southern California Edison. He forecasts long-term electricity demand for the utility's 5 million-plus customers as well assists in the forecasts new energy technology adoption including solar, electric vehicles, and battery storage. Eduardo coordinates regulatory strategy with the state and federal regulatory bodies who oversee SCE's load forecasts and resource adequacy filings.
Prior to SCE, Eduardo was the senior economist for California and Puerto Rico at Moody's Analytics from 2008 to 2014 where he prepared monthly economic forecasts and made forecast presentations to government and business audiences in the U.S., Canada, and Puerto Rico. He worked at Los Angeles Economic Development Corporation from 2006 to 2008 as economist where he focused on regional foreign direct investment and regularly appeared on local and national Spanish-language media. Eduardo started his economist career with positions with the Bureau of Labor Statistics and the State Department from 1999 to 2006.
This will be a virtual meeting via Zoom. All meeting login information will be provided upon registration.