Description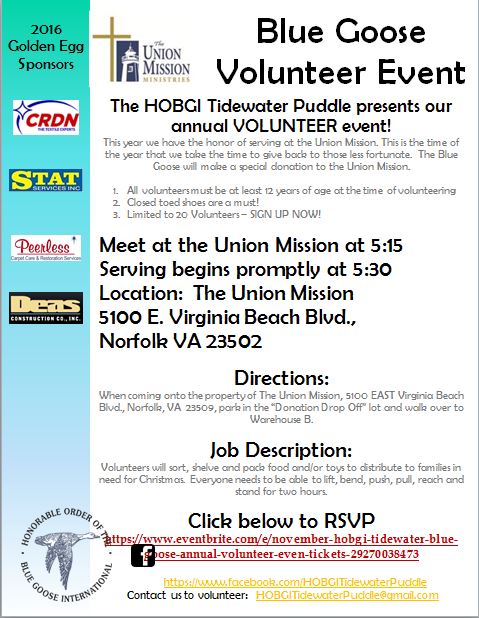 The HOBGI Tidewater Puddle presents our annual VOLUNTEER event!
This year we have the honor of serving at the Union Mission. This is the time of the year that we take the time to give back to those less fortunate. The Blue Goose will make a special donation to the Union Mission.
All volunteers must be at least 12 years of age at the time of volunteering
Closed toed shoes are a must!
Limited to 20 Volunteers – SIGN UP NOW!
Job Description:
Volunteers will sort, shelve and pack food and/or toys to distribute to families in need for Christmas. Everyone needs to be able to lift, bend, push, pull, reach and stand for two hours.
Meet at the Union Mission at 5:15 Serving begins promptly at 5:30
Location: The Union Mission 5100 E. Virginia Beach Blvd., Norfolk VA 23502
Directions: When coming onto the property of The Union Mission, 5100 EAST Virginia Beach Blvd., Norfolk, VA 23509, park in the "Donation Drop Off" lot and walk over to Warehouse B.