Join us virtually for the NSBE Charlotte Professionals October General Body Meeting on Wednesday November 18th at 7:30pm.
About this event
Join us virtually for the NSBE Charlotte Professionals November General Body Meeting on Wednesday November 18th at 7:30pm. We will use the mircosoft team platform and our guest speaker Crystal Donald will kickoff our Entreprenuship Blueprint Series.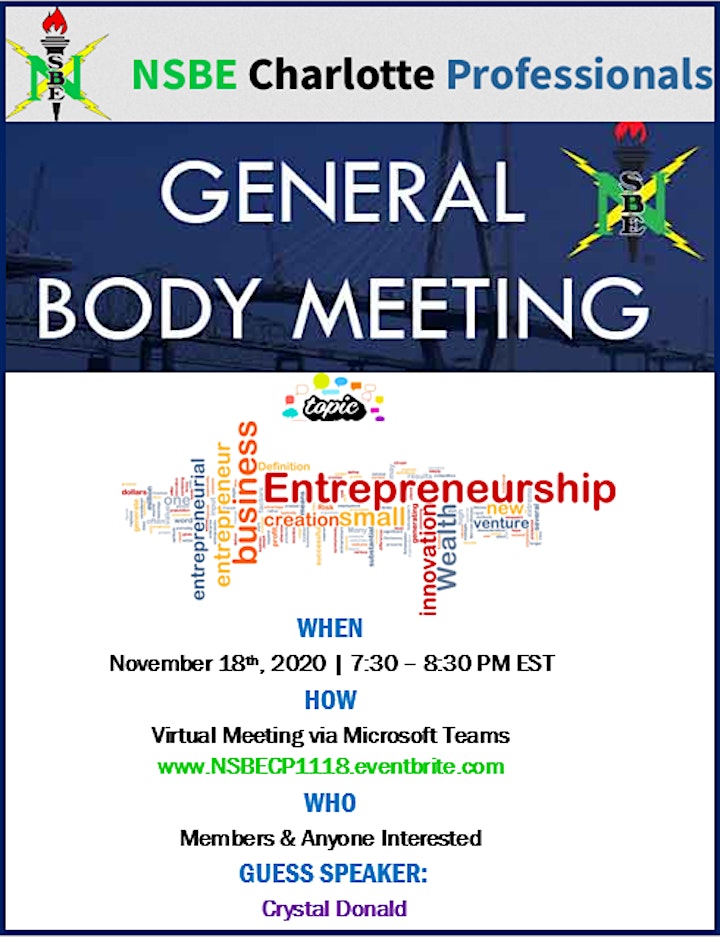 Our speaker Crystal Donald did everything right, just like "they" tell us. She went to school, got the good grades and got the good 6-figure job in IT. With a Bachelor's degree in Biomedical Engineering, Master's degree in Computer Engineering and a MBA, she thought she was well on her way to success. Until she realized that the American dream she was promised, really turned out to be the American nightmare! Facing massive student loans and crushing taxes she was laid off through no fault of her own by a company that valued profits over people. It was then, that she promised herself that she would never give the power of her financial destiny over to anyone else ever again! She began her journey to find financial freedom, attending courses and seminars, receiving certifications, and investing herself. Along the journey, she found and developed a method to recapture the wealth in her life with cashflow. She now is a successful short-term rental business owner and serial entrepreneur. She has multiple streams of income and is passionate about helping others do the same. Affectionately known as The Cashflow Conductor, she travels all over teaching others how to create their legacy of financial freedom and begin living life on their own terms.
Crystal is a trainer, coach, mentor, public speaker, entrepreneur and business owner. She loves to dance, travel, swim and drink pineapple juice out of wine glasses. She is a beloved daughter, sister, and an auntie.
Organizer of November General Body Meeting
 The National Society of Black Engineers - Charlotte Profesionals (NSBE-Professionals) is a 503(C) (3) non-profit association represented by technical and professional members throughout the Charlotte Metropolitan area.

NSBE-Professionals re-chartered in February 2008 and is dedicated to increasing the participation of African-Americans and other underrepresented groups in the fields of engineering and technology from pre-college to professional.
For more information go to www.nsbecharlotte.org