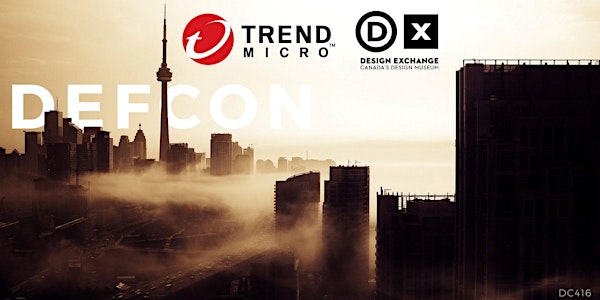 November DC416: Critical Infrastructure Vulnerabilities & Big Game Phishing
Join us for two great talks to learn about vulnerabilities in critical infrastructure and the increased sophistication in phishing attacks.
When and where
Location
Design Exchange Exhibition Hall - 3rd Floor 234 Bay Street Toronto, ON M5K 1B2 Canada
About this event
Hey hackers! Who is excited for the next DEFCON Toronto event? The group for hackers, cyber security professionals, and enthusiasts. We are excited to have you join us for our November meetup at Design Exchange's Exhibition Hall, where we will have two fantastic talks.
This month's meetup is sponsored by Trend Micro and hosted by Design Exchange.
Check them out!
Trend Micro - https://www.trendmicro.com
Design Exchange - https://www.dx.org/
Talk #1: Feel the Flow – Where Water & Energy Industries are most Vulnerable
Speaker: Numaan Huq
Abstract: The Energy & Water (E&W) sectors are critical to the economy of every nation. During our investigations we found a certain amount of exposed and unprotected E&W systems online, bringing with them a danger to these Critical Infrastructure (CI). We wish to stress that contrary to many sensationalized stories on the vulnerability of Internet connected CI, our findings were limited to small-to-medium sized organizations within these sectors. Large CI organizations have security firmly in mind, but still consider their ICS infrastructure susceptible to attacks. However, the exposure of these more mid-tier organizations is still cause for concern for two reasons. Firstly, because of CI interdependencies, failures in these mid-tier organizations will have cascading and far-reaching after-effects further up the Supply Chain. Secondly, for would-be attackers these mid-tier players act as the perfect testbed for attack strategies. In this talk we present the following:
• Using OSINT techniques we probe the E&W sectors to see what types of exploitable cyber assets are accessible to would-be attackers
• We present findings from past ICS security research papers to highlight the potential threats faced by exposed cyber assets
• We attempt to identify likely attackers, probe their motives and assess damage potentials
Bio: Numaan Huq is a Senior Threat Researcher with Trend Micro's Forward-Looking Threat Research (FTR) Team. He has been working for over a decade in the Computer Security Industry and has extensive experience analyzing the latest cyber-threats, software exploits, and malware families. Numaan first became interested in computer security after researching VoIP phone exploits in his internship job. His current research interests include targeted attacks, data breaches, financial malware, and Industrial Internet of Things (IIoT). Beyond the realm of security research, he likes to drive around in the countryside, experiment with fusion cooking, read science fiction & fantasy novels, and has recently developed an interest in backyard astronomy. Numaan holds a B.Sc. and a M.Sc. in Computer Science from the University of Victoria, BC, Canada.
Talk #2: Big Game Phishing
Speaker: Roberto Martinez
Abstract: The Anti Phishing Working Group (APWG) defines Phishing as "a criminal mechanism employing both social engineering and technical subterfuge to steal consumer's personal identity data and financial account credentials". But, what happens when cybercriminals employ the same techniques to steal from a business and not just a consumer's personal financial accounts? Imagine you own a small business and miscreants have obtained the credentials to your business banking account and have managed to wire out all the funds in that account. The business wouldn't be able to make payments, pay their employees, and even possibly have to file for bankruptcy as a result in a worst case scenario. Phishing attacks aimed at obtaining access to business banking accounts are not highly documented and remain unknown to most people. This talk exposes the operation of two different threat groups involved in phishing activities targeting business banking accounts. Both groups provide a similar, yet unique approach to execute their attacks and successfully monetize their operations.
Bio: Roberto Martinez is a Threat Intelligence Specialist working for the Royal Bank of Canada. With a passion for understanding how threats work and who is behind them, his work focuses in the areas of threat intelligence, phishing investigations, malware analysis and anything related to financial crimes. Roberto has presented at different international conferences including APWG eCrime (2016 and 2017), NCSC-NL International One (2017), Countermeasure (2017) and CyberCrimeCon (2018).