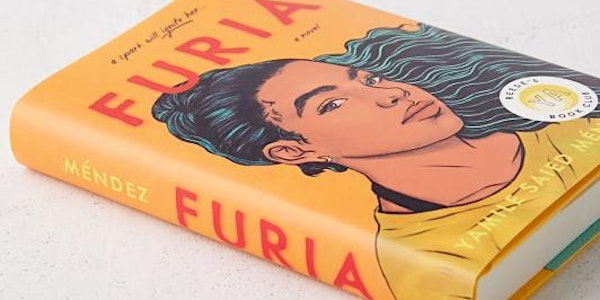 November Book Club "Furia"
Chicas Latinas November Book Club read of the month is Yamile Saied Méndez's "Furia"
About this event
Join Chicas Latinas de Sacramento's November Book Club!
#CLBookClub November read is "Furia" by Yamile Saied Méndez
In Rosario, Argentina, Camila Hassan lives a double life.
At home, she is a careful daughter, living within her mother's narrow expectations, in her rising-soccer-star brother's shadow, and under the abusive rule of her short-tempered father.
On the field, she is La Furia, a powerhouse of skill and talent. When her team qualifies for the South American tournament, Camila gets the chance to see just how far those talents can take her. In her wildest dreams, she'd get an athletic scholarship to a North American university.
But the path ahead isn't easy. Her parents don't know about her passion. They wouldn't allow a girl to play fútbol—and she needs their permission to go any farther. And the boy she once loved is back in town. Since he left, Diego has become an international star, playing in Italy for the renowned team Juventus. Camila doesn't have time to be distracted by her feelings for him. Things aren't the same as when he left: she has her own passions and ambitions now, and La Furia cannot be denied. As her life becomes more complicated, Camila is forced to face her secrets and make her way in a world with no place for the dreams and ambition of a girl like her.
Filled with authentic details and the textures of day-to-day life in Argentina, heart-soaring romance, and breathless action on the pitch, Furia is the story of a girl's journey to make her life her own.
November #CLBookClub Details
Discussion Schedule
11/4 at 7 PST
11/11
11/18
**Register once to join all 3 meetings!
Details:
Free registration opens 10/5, closes 11/1.
Reading schedule, discussion questions, and Zoom link will be provided to registered participants. Club participants meet virtually on Thursdays to discuss assigned reading section.
Join us every Thursday during the month (excluding Thanksgiving Day) of November, at 7pm, to discuss "Furia." Registrants can access instructions and links in "Online Event" section of this Eventbrite event.
Shop Local!
Wild Sisters Book Co. is giving members 10% off bookclub purchases. Just mention Chicas Latinas at check-out!
Address: Wild Sisters Book Co. 3960 60th St Sacramento, CA 95820 --(Located in Tallac Village Shopping Center)
Hours: Tuesday - Sunday: 10am - 6pm