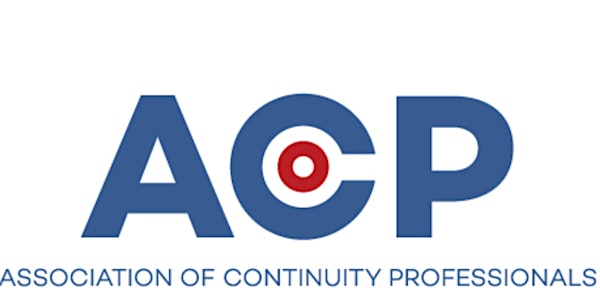 November 2017 ACP Membership Meeting at Stanford Health Care
Location
Stanford Health Care
180 El Camino Real
Suite 1199, Second Floor, Conference Room 239
Palo Alto, CA 94304
Description
November 2017 Monthly Membership Meeting
Come join your fellow continuity professionals for this important and timely presentation topic on " with Brandon Bond, Administrative Director, Office of Emergency Management at Stanford Health Care on on Tuesday, November 14, 2017. Come join us as we learn about
"Disaster Response & Supply Chain Complexities: The US Response to Irma and Maria in the US Virgin Islands"
You will learn about the complexities of CM, DR as they intertwine with supply chain management. Learn from one of the Bay Area's leading practitioners in emergency management. You don't want to miss this opportunity to learn and also network with fellow Bay Area continuity professionals.
Please RSVP now. Registration required for entry (please, no "no shows").
MEETING AGENDA*
11:30am – 12:00pm Welcome & Networking Brown Bag Lunch
12:00pm – 12:25pm ACP Chapter Business Meeting
12:30pm – 1:30pm Keynote Presentation on "Disaster Response & Supply Chain Complexities: The US Response to Irma and Maria in the US Virgin Islands" by Brandon Bond
1:30pm – 1:45pm Networking Break
1:45pm – 2:25pm Presentation Q&A and Facility Tour/Overview
2:25pm – 2:30pm Closing


About Our Host & Speaker Brandon Bond
Brandon Bond is the administrative director of the Office of Emergency Management at Stanford Health Care and Stanford Children's Health. He also serves as the Safety Officer on the U.S. Health and Human Services, Disaster Medical Assistance Team, CA-6.
Most recently he was a part of the Federal response to Hurricane's Irma and Maria. He responded to the Haiti Earthquake, Hurricanes Gustav, Ike, Katrina and Rita. Brandon also participated in relief efforts in the Philippines following Super Typhoon Haiyen and Sri Lanka following the Indonesian Tsunami. Mr. Bond has been involved in many state and local responses as a first responder.
For the last 20 years, his passion has been delivering emergency and crisis management programs and training to Healthcare, High-Tech and Homeland Security industries.
Brandon currently serves United States Department of Homeland Security Public Health and Healthcare Sector Coordinating Counsel, and the State of California's Mass Patient Movement Working Group. He also volunteers for the California Rescue Dog Association, and San Mateo County Search and Rescue Team.
Brandon holds a Bachelor's in Political Science and a Master's of Science in Industrial and Technical Studies from Cal Poly State University.
***If you are unable to attend after registering, please cancel your registration by 12pm Monday, Novmeber 13th to open registration for others.
Location: Stanford Health Care, Palo Alto, CA
Transportation: Vehicle parking available onsite, Caltrain is within walking distance
Lunch: There are many eateries in the vicinity
For other events and news visit the San Francisco Bay Area Association of Continuity Professionals' website.
SF Bay Area Chapter of ACP sponsored by: Everbridge
*Agenda subject to modification up until the time of the meeting.