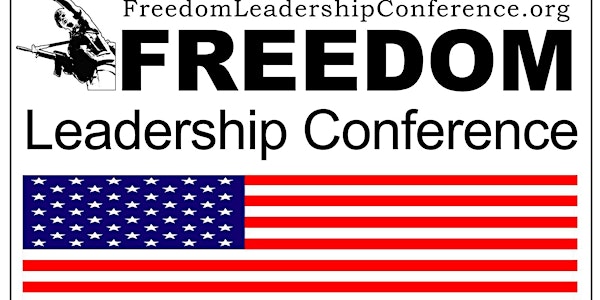 November 2016 Freedom Leadership Conference
When and where
Location
Wingate by Wyndham Chantilly / Dulles Airport 3940 Centerview Dr. Chantilly, VA 20151
Refund Policy
Contact the organizer to request a refund.
Description
The 17th Annual Freedom Leadership Conference
What We Conservatives Want
The 7th Annual Review of the Thurmont Statement of Conservative Principles
adopted at the 10th Annual Freedom Leadership Conference
in November, 2009 at Thurmont, MD & subject to review at each annual Conference
2016 Election Review and Rundown
Veterans Day Salute to American Miltiary Servicemembers
Sat. November 12, 2016
Conference & Luncheon
With Former Governor James Gilmore
Luncheon at Noon, Conference at 1pm.
Lunchon & Conference $17, Conference Only $5 Event Fee RSVP required.
Participating Organizations (additional sponsors welcome)
Ronald Reagan Lecture Series, Co-Sponsor with an American Exceptionalism Speaker from Vietnam
US Intelligence Council, Sponsor. Speaker: China Threat to USA Grows in 2017
Gun Owners of America, Co-Sponsor, Speaker, Larry Pratt, Program: Defending Gun Rights in 2017
Uniformed Services League, A Veterans Day Salute, The VA Hospitals Scandal, Reform in 2017
Deluxe Premium Boar's Head Artisan Luncheon
Fresh from the Carving Board: Premium brand luncheon sandwich wraps including (1) Boars Head Londonport Roast Beef & Cheddar Cheese, (2) Boars Head Ovengold Turkey and Swiss Cheese, (3) Boars Head Genoa Salami & Jarlsburg Swiss Cheese. All Sandwich Wraps with Lettuce, tomato, roasted pepper and raw onion and low carb bread wrap. Mayo, mustard & sliced roasted sweet peppers options on the side for your wrap. Mediterranean Olives Medley. Salads available to accompany your sandwich include: (1) macaroni, chopped vegetables & shredded swiss salad, (2) German Potato salad, (3) traditional American cole slaw, assortment of olives. Water and Ice Tea (sweetened or unsweetened). Your choice of deluxe Chocolate Chip Cookies and decadent Brownies. Special dietary needs, please make your request by email 48 hours in advance of event (ie. by Thurs. 5 PM latest).
All attendees are required to RSVP and only those who have done so are admitted.

The Freedom Leadership Conference has been sponsored by over 60 of the leading conservative cause, patriotic, anti-tax and national defense organizations in America for nearly 20 years. It changed from an annual conference to a several times a year conference in Northern Virginia starting five years ago. Each conference is sponsored ($500) or co-sponsored ($250) by an organization which provides the main speakers.
Advance RSVP Required. Due to Limited Seating, advance registration required for admission. First Come first Served.
Additional Speakers at every conference on these topics:
The Thurmont Statement of Conservative Principles,
Saul Alinsky Smear of the Month Award for one leftist
Conference Purposes and Membership Benefits
Brief reports by leaders of other conservative cause organizations welcome (priority to past sponsors)
How to be a Conservative Volunteer (Lightning Round)
(*to volunteer to speak on any of these topics please write to EventCoordinator@FreedomLeadershipConference)
***
Military Veterans & those with legal firearms (concealed weapon or open carry) admitted free to conference (ID required) or may have $5 discount from any meal function
.
The Freedom Leadership Conference is a private event. Attendees are only admitted on the understanding that they will abide by the conference rules, which includes no recording or photography and advance registration is required. Those who attend the conference dinner or lunch held in advance of each conference to honor the keynote speaker and associate with the conference leadership are added to the membership roll unless they object, and receive the free e-newsletter.
This conference is held several times a year with a different sponsor and program, starting as an annual event in southern California called Western Conservative Conference in 1999, with over 60 sponsor organizations over the years. The Freedom Leadership Conference moved east after three years, and since late 2012 has been a periodic, several times a year, weeknight event held in Northern Virginia.
For video & text of past keynote speakers and to apply for either SUBSCRIBER status (to receive the free email newsletter Freedom Digest) or to JOIN as a Conference Member (no dues, includes newsletter): http://FreedomLeadershipConference.org
Conference Statement of Purpose at http://freedomleadershipconference.org/info/.
Conference includes presentations on the Thurmont Statement of Conservative Principles, the popular "Lightning Round" (1 minute each) of up to 10 individuals from audience (first come first served) to describe "How I have been a Volunteer Conservative," other conservative speakers & the very popular

Saul Alinsky Smear Award
Remarks & presentation on How the Left Smears Conservatives & and naming a recent example
Alinsky Award nominations may be made to LeftSmear@FreedomLeadershipConference.org
http://FreedomLeadershipConference.org
Conference organized with assistance of Freedom Center Foundation and U.S. Public Policy Council.
If you are unable to attend this function, we are willing to keep you apprised of future functions as a SUBSCRIBER (including links to articles about the conferences, video and text of some of the speakers and more. Or you may apply for Membership which entitles you to invitations to future monthly conferences and the dinner as well as the free subscription. There are no subscriber or membership dues or attendance requirements.

We appreciate your referring this conference to your friends. ALL attendees - dinner and conference - must advance RSVP for admission. If you do RSVP and then do not attend we will request you pay in advance to attend in the future. We strongly encourage our members and subscribers to share the link to the website (via facebook, email, twitter, etc.), especially when there are NEWS items posted there.
"Like" our Facebook page HERE.
For the FLYER (8 1/2 x 11, PDF) of this conference TBD.
USPPC has been recognized for over 25 years as a non-profit corporation under IRS code 501/c/4 to enable some of its projects to influence Congress for or against pending legislation. Therefore donations are not tax-deductible.