November 16 - One Couple's Tale of Cruising their Beneteau From San Francis...
Sales Have Ended
Registrations are closed
Thank you for registering. We'll contact you for final attendance confirmation. In the meantime, if you're not able to attend, please let us know so we can open your space to our waitlist. Hope to see you at our event!
Sales Have Ended
Registrations are closed
Thank you for registering. We'll contact you for final attendance confirmation. In the meantime, if you're not able to attend, please let us know so we can open your space to our waitlist. Hope to see you at our event!
Description
Can I really go cruising on my Beneteau from San Francisco to Europe?
If you have a cruising dream, or want to get a first hand account of what it's like to live a cruising lifestyle, here's your chance…
We're excited to invite you to an informal cruising talk with our own Torben Bentsen about what it takes to select, outfit and prepare your boat and yourself for a cruise. Whether your cruising plans include the coast of California or the world, there's plenty of great advice and help to prep yourself and your boat for the adventure.
The goal and objective of this cruising talk is to give you an idea of the tools and perspectives you need as a couple to safely pursue the cruising lifestyle. Torben Bentsen, who has worked as a sales broker for Passage Nautical for 10 years, has for the past 6 years been splitting his time between working at Passage and sailing the world with his wife Judy aboard their 42 foot Beneteau, TIVOLI.
Since they left Point Richmond in 2010, they have covered over 17,000 nautical miles on a trip which has taken them south to Panama, though the Caribbean, from Cuba to Trinidad, and across the Atlantic Ocean to the Azores, Ireland and England. They spent a summer cruising the Scandinavian countries of Denmark, Norway and Sweden. And they just returned from their 6 month 2016 summer cruise, taking them from Scandinavia, up the Thames River to London, across the Biscay, Portugal and into the Mediterranian.
Judy taking a break from grocery shopping
The talk will give an overview of the trip and how they prepared themselves and their boat, but mostly, this talk is intended as an intimate Q&A session where you can bring your questions.
There will be a wide range of topics discussed based on your questions and group interests including weather, sail inventories, on-board communications, navigation, anchors, water makers, refrigeration, and insurance. The discussion is open to other subjects such as what kind of boat to consider, foreign countries and port entry clearance, passage making, maintenance, emergencies, and cruising guides. Come prepared with your questions.
Attendance is limited to 16 people. We'll be serving refreshments and snacks.
Event Location:
Passage Nautical Enterprises
423 Water Street
Jack London Square
Oakland
About Passage Nautical:
Passage Nautical is the premier San Francisco Bay Area full service yachting company. We are the exclusive Platinum Dealer for Beneteau sail and power yachts, Lagoon catamarans and offer a large selection of pre-owned boats. What sets Passage apart from the rest is our full service approach to helping you enjoy the boating lifestyle, from our award-winning Service Department which offers repairs, installation, concierge services, Beneteau parts and a lifetime service relationship, to our training academy, educational seminar series and world-class yachts.
We also provide financing and insurance services. Our Boat As A Business workshops inform you on how to receive tax savings through charter placement programs. We host monthly test rides, educational workshops and other fun VIP events about the boating lifestyle. For 30+ years, we have been making people's boat dreams a reality. Let us help you with yours.
Learn more at Passage Nautical at http://www.passageanautical.com
WHY CHOOSE PASSAGE NAUTICAL FOR YOUR BOATING DREAM
We do more than sell and service boats.
We offer a wide range of on-the-water experiences like no other dealership.
In addition ot being able to offer for sale two of the best brands of yachts in the world, we offer a full array of services and experiences to get you into the boating lifestyle or let you try out boating without having to join a club and pay monthly dues. You select the kind of expereince you want when you want it.
Charter/Rent a new Beneteau sail or power yacht or Lagoon catamaran for the day with a skipper

Learn to powerboat through our Powerboat Training Academy events

Learn to sail on our fleet of Beneteau ASA 22's and earn your ASA Basic Keelboat Certificate

Reserve private lessons for you, a group of friends or your family on board our new fleet of Beneteau power or sailing yachts

Give a day or half day charter as a gift or employee reward
We offer skippered sailing experiences aboard the latest Beneteau sail and power yachts and Lagoon catamarans on San Francisco Bay. Enjoy San Francisco Bay on the boat of your choice with your own US Coast Guard licensed skipper. Perfect for families, work teams and friends.
Your skipper takes care of running your yacht but will involve you as much in the operation of your vessel as you wish. Learn from scratch or improve specific skills, or just relax on-board and enjoy the company and the breathtaking views of San Francisco Bay. To learn more about our San Francisco Bay Area fleet, visit our our Skippered Charter Fleet page at http://www.passagenautical.com/private-yacht-ownership-fleet
Discover the Beneteau Difference:
For 130 years Beneteau has been building boats with passion, expertise and commitment in state of the art production factories. While other manufacturers hold on to the status quo, Beneteau's engineers and designers keep innovating and improving. This means a fleet of practical, elegant and seaworthy boats. Beneteau's commitment to advanced technologies and methods and internal rigorous standards produce yachts second to none in quality and durability.
When you invest in a Beneteau you are not just buying years of enjoyment, you're buying peace of mind and a support network that follows you around the world. There are over 400 dealers worldwide, immediate access to parts and advice through the dealer network or the factories in France, America and Brazil. The Beneteau community of owners is the largest in the world. Wherever you travel you're almost guaranteed to be among fellow Beneteau owners.
When you purchase your new Beneteau from an authorized dealer you get the newest three/seven year warranty, one of the strongest and best in the industry. We look forward to answering all your questions.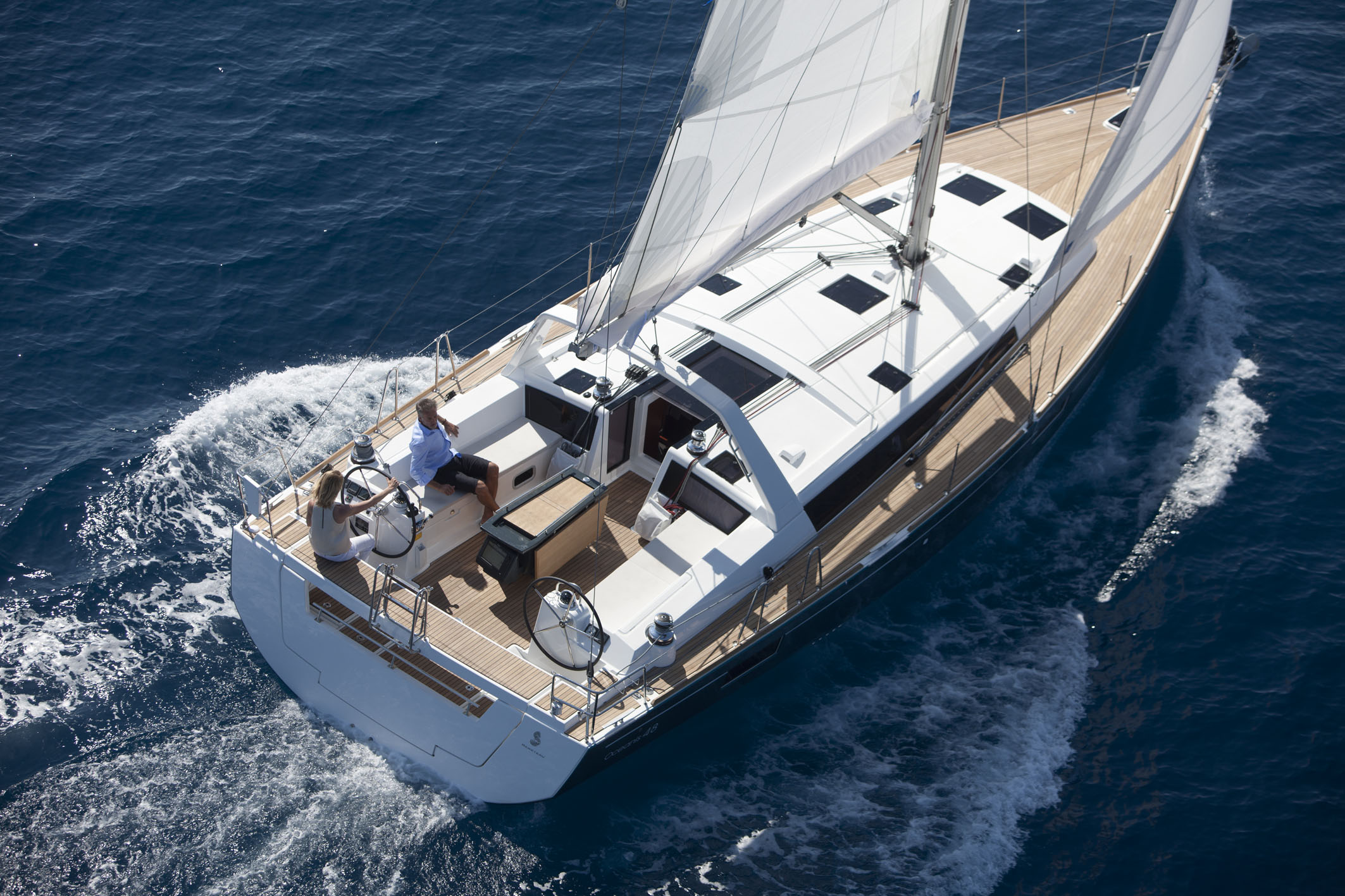 BENETEAU SAIL
Oceanis Series: The Oceanis series is our line of cruisers with incredible amenties to make life on board not only comforatable but beyond your expectations.
Sizes: 31, 35, 37, 38, 41, 45, 48, 55, 60
Sense Models: The Sense Series are luxury cruisere with the latest design trends for fast cruising and luxury living. They are often called a crossover boat between a monohull and multihull because of their spaciousness and layout design.
Sizes: 46, 50, 55
First Models: The First Series is the racing series with beautiful cruising capable interiors. They are for sailors with a perfomance requirement and refined and comfortable interior accommodations for the family to enjoy.
Sizes: 20, 22, 25, 30, 35, 40, 45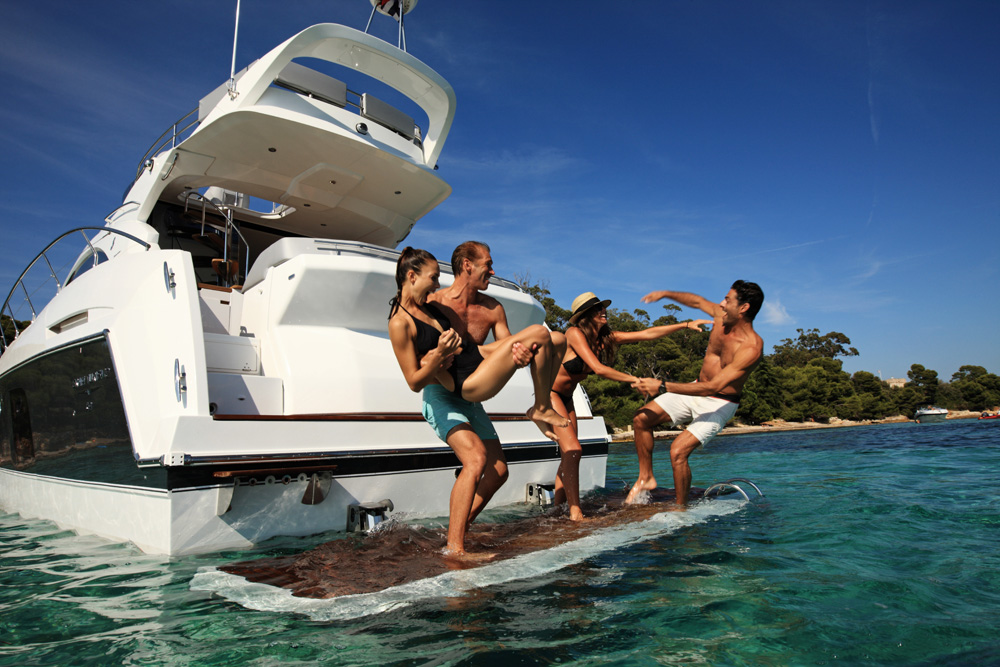 BENETEAU POWER
Gran Turismo Sport Yachts Sizes: 34, 38, 44, 49
Swift Trawler Series: Sizes: 34, 44, 50
Barracuda Fishing/ Commuter Outboards: Sizes: B7 (25') B9 (29')
MC - Monte Carlo Motor Yachts Sizes: MC4 (45') MC5 (50') MC65 MC70 MC76 MC86
LAGOON CATAMARANS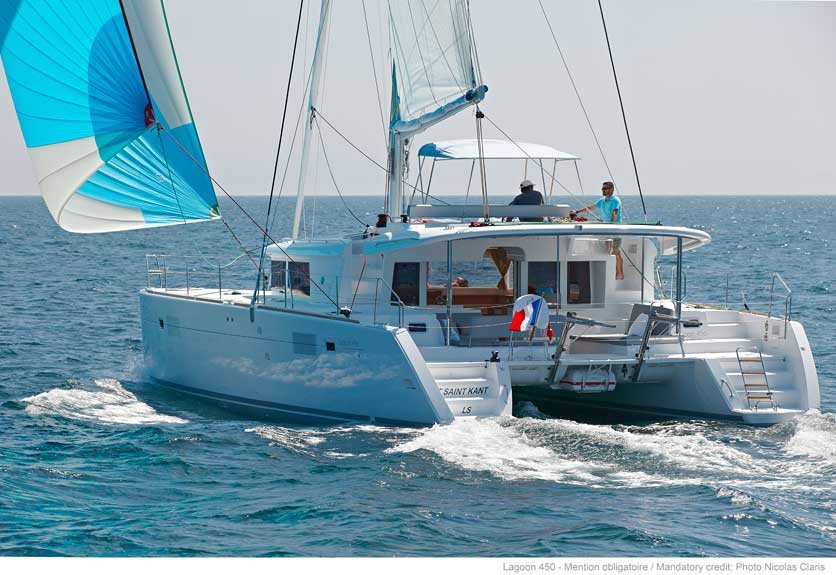 Catamarans offer incomparable comfort, space, ergonomics, safety and simplicity of living and sail handling. People choose catarmarans for the fact that they do not heel like monohull sailboats. Lagoon has been building catamarans for 30 years and is the largest and most luxurious production catamaran builder in the world. There are more Lagoons sailing the oceans than any other brand, and or good reason, its innovation, build quality and safety.