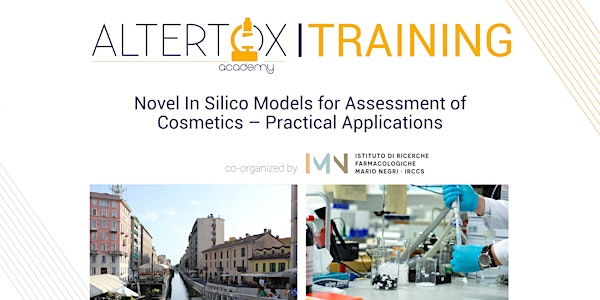 Novel In Silico Models for Assessment of Cosmetics – Practical Applications
When and where
Location
Mario Negri Institute for Pharmacological Research Via La Masa 19 20156 Milano Italy
Refund Policy
Contact the organizer to request a refund.
Description
Agenda is available here.
The course will introduce the use of models relevant for cosmetic ingredients, addressing properties like mutagenicity (Ames test and micronucleus), skin sensitizations, NOAEL, and others for human toxicity. The course will address hazard and exposure, such as skin permeation. New models, developed in the last year, will be also presented.
Questions addressed within the course will be:
How to evaluate the reliability of the models?

How to compare results from different models?

How to identify relevant chemicals for read-across?

How to integrate the results from in silico models and read-across?
Besides Mario Negri's experts, speakers for this training are:
Judith C Madden, Liverpool John Moores University talking about

"Prediction of Skin Metabolism and its Implication in Toxicity Assessment-Computational"

Tao Chen, University of Surrey talking about "in silico modelling of skin permeation"
The minimum participant number has been reached, the trainining is confirmed.
Registration fee includes the participant booklet, catering and social dinner.
The training will start with 0.5 day lectures and will be followed by 1.5 days of practical training (Hands on-training) where participants, divided in small groups will get the chance to discuss and interact with the experts. This is a perfect way to quickly approach a software, as well as data analysis and interpretation.
FAQ
What's the refund and cancellation policy?
Refunds are available only if Altertox Academy cancels the event. This is stated on the participant's receipt once registered. However, tickets may be transferable if the ticket holder is unable to attend the event. In principle the ticket may only be transferred within the same price category but a final decision will be made at Altertox Academy's discretion.

What will I do during Hands-on trainings?
Each hands-on training is scheduled to last for 2-Days. In these two days, the hands-on trainings encompass 20% Lectures and 80% practical training including case studies. In other words, for about more than a day and a half of the trainings each participant will able to actively interact with the experts in small groups of 3-4 people.
What is the difference between "private" sector and "non-private" sector?
The participant must choose the "private" sector in case his/her organization has any commercial activities e.g. selling products or services to third parties.
What is a "webinar" ticket?
The webinar ticket allows you to follow live the lectures that take place in the morning of the first day of training through an online platform specified by Altertox Academy before the training begins.