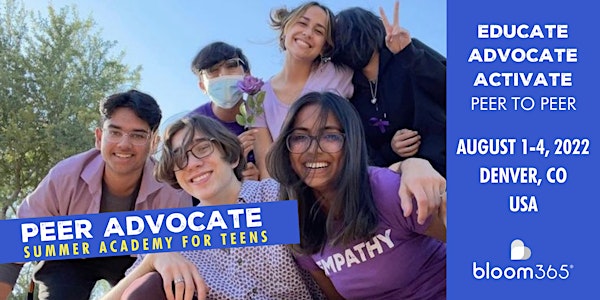 NOVA TEEN TRACK: PEER ADVOCATE ACADEMY SUMMER 2022
Peer Advocate Summer Academy at the 48th Annual NOVA Conference
Refund Policy
Contact the organizer to request a refund.
Eventbrite's fee is nonrefundable.
About this event
SUMMER 2022 PEER ADVOCATE ACADEMY
TEEN TRACK AT THE 48TH ANNUAL NOVA CONFERENCE
August 1-4, 2022 | 9am-3pm
Sheraton Denver Downtown Hotel | 1550 Court Place | Denver, Colorado
NOTE: NOVA REQUIRES PROOF OF COVID-19 VACCINATION IN ORDER TO ATTEND
BLOOM365 is once again excited to partner with NOVA to offer our Annual Summer Peer Advocate Academy for students in Grades 8 and up. This is an on-site, in person training.
This training brings together student leaders from around the world who want to learn the skills and gather the resources to educate their peers on how to prevent abuse BEFORE it starts.
This highly interactive peer to peer training prepares student leaders to:
EDUCATE peers and younger near peers on the root causes of domestic/sexual/teen dating violence/bullying and how to prevent them.
ADVOCATE for and support peers who have experienced an unhealthy, controlling, toxic or abusive relationship or friendship.
ACTIVATE 10% of peers and entire school communities to promote healthy relationships through First Friday campaigns that promote empathy, respect, equality and consent.
Over 80% of teens say they would confide in a friend before going to an adult if they were experiencing or witnessing victimization.
PEER ADVOCATE ACADEMY TRAINING AGENDA
August 1-4, 2022, 9am - 3pm
DAY 1: EDUCATE (8/1/2022)
OBJECTIVE: Recognize the signs, symptoms androot causes of domestic/sexual/teen datingviolence and skills for building safe and healthyrelationships.
BringLove365 7-Dose Curriculum
Dose 1: Define Healthy v. Unhealthy Relationships
Dose 2: Red Flags, Green Flags, Help Seeking & Safety
Dose 3: Root Causes & Stereotypes
Dose 4: Peer, Media & Societal Influences
Dose 5: Well-Being (Self-Esteem, Social Connectedness, Self-Care)
Dose 6: 3 C's Communication, Conflict Resolution, Consent
Dose 7: The 4 D's of Bystander Intervention
DAY 2: ADVOCATE (8/2/2022)
OBJECTIVE: Learn advocacy skills to support peersgoing through abuse.
LEVEL Response Training
Listen: Practice active listening skills
Empathize: Role play what to say v. what not to say
Validate: Differentiate victim blaming from non-victim blaming responses
Encourage: Top 10 ways to encourage help-seeking among peers to promote self-advocacy and empowerment.
Link to Resources: Know where/how to make relevant referrals and how to navigate complex and potentially dangerous situations.
Real Talk Peer Support Group Facilitator Training
Coping
Self-Care
Self-Esteem
DAY 3: ACTIVATE (8/3/2022)
OBJECTIVE: Build communication, networkingand community engagement skills to activatepeers to promote the intolerance ofdomestic/sexual/teen dating violence andcultivate empathy, respect and consent associal norms.
Theory of Change: Achieving the 10% Tipping Point
Community Engagement: First Friday Campaigns
Peer to Peer Outreach: Tabling and more
DAY 4: AMPLIFY (8/4/2022)
OBJECTIVE: Create a safe and empoweringspace for peer advocates to share experiences,explore solutions, and amplify individual andcollective strengths to uproot abuse in ageneration.
Public Speaking to inspire positive change
Panel Discussion w/Youth Survivors
Elephant in the Room Podcast on Individual,Relationship, Community & Societal Solutions
Superlative Awards