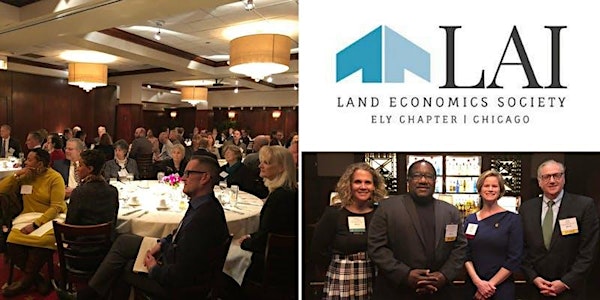 Nov. Luncheon: Social and Business Cases for Diversity, Equity & Inclusion
Location
Petterino's
150 N. Dearborn St.
Chicago, IL 60601
Description
2019 Annual Meeting & November Luncheon: Social and Business Cases for Diversity, Equity & Inclusion
Diversity, Equity and Inclusion (DEI) are bedrock issues to be considered within the field of land economics – both from social and business case perspectives. How are these issues advancing within the industry, the Chicago region and the Ely Chapter of Lambda Alpha? An expert panel of practitioners will share their insights and invite group discussion. Event registration ends November 14.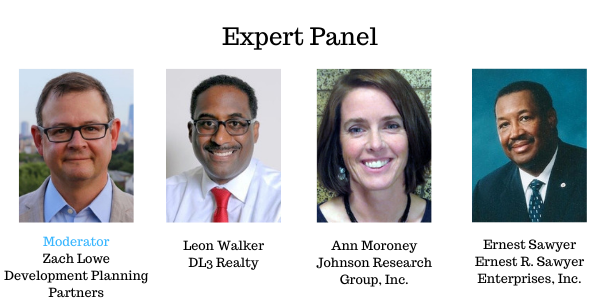 The luncheon will also serve as the Ely Chapter's 2019 Annual Meeting which will include the election for the proposed 2020 board of directors slate. Click here to see the proposed slate.
This is a terrific opportunity to BRING A GUEST so they can make connections and discover the great value of LAI Ely Chapter membership. **Remember, the chapter now requires prospective members to attend two events at minimum to be eligible for induction.
---
About the Panelists:
Zach Lowe (Moderator) is founder and principal of Development Planning Partners (DPP). Zach has over 20 years of experience providing real estate market research, analysis, and development consulting services to a wide variety of public and private sector clients. In 2011, Zach founded DPP, a Chicago-based real estate market research and development planning consultancy. Zach and DPP have worked extensively with clients that include municipalities, planning firms, development companies, lenders, and investors, to provide market insights and market-driven, community-enhancing development strategies.
Leon Walker, Managing Partner of DL3 Realty, is one of Chicago's most active community developers. Leon works closely with municipalities, anchor institutions, and Fortune 500 companies to implement projects that are sensitive to a neighborhood's character while creating economic opportunities for local residents. Leon has completed developments for Whole Foods, UI Health, Magic Johnson, PNC Bank, Chipotle, Starbucks and Jewel-Osco. Previously, he was a partner at Jones Lang LaSalle, and a board member at DuSable Museum.
Ann Moroney is President of Johnson Research Group, Inc. (JRG), a planning and economic development firm focused on economic development strategies, capital planning and municipal finance. JRG provides advisory services to municipalities, public agencies, non-profit organizations and private clients. Established in 1998 by Ronald Johnson, JRG has been solely owned by Ann since 2012. JRG is a WBE/DBE with Cook County, City of Chicago, CTA, and state of Illinois. Ann is a certified Planner and Series-50 Qualified Municipal Advisor Representative with 20+ years of experience.
Ernest Sawyer founded Ernest R. Sawyer Enterprises, Inc. (ERS) in 1994. Since its inception, ERS has been focused on urban development, compliance and transit issues. The firm is the largest African-American owned Urban Economic Development and Consulting firm in the Chicagoland area. Ernest's vision for creating the firm was drawn from his 30 plus years of urban planning experience with the City of Chicago and the Chicago Transit Authority. Prior to founding ERS, Ernest was the Deputy Executive Director of Planning, Marketing and Development for the Chicago Transit Authority. He supervised over 150 employees involved in all planning phases, including facilities evaluation and property condition assessment, and was responsible for executive management of Strategic Planning.

---
***Please bring your Eventbrite Receipt to the Luncheon***
Please note that refunds are not available for cancellations.
---