Nov. 17 BOSCPUG: 'FOOD FIGHT: Inside the Battle for Market Basket' with Dir...
Description

THURSDAY, NOVEMBER 17 BOSCPUG:

Celebrate Our Last BOSCPUG of 2016!
NOTE: If you experience any issue in RSVP'ing here on Eventbrite, please a) email dberube@boscpug.org and b) Come to our Event and check in at the registration table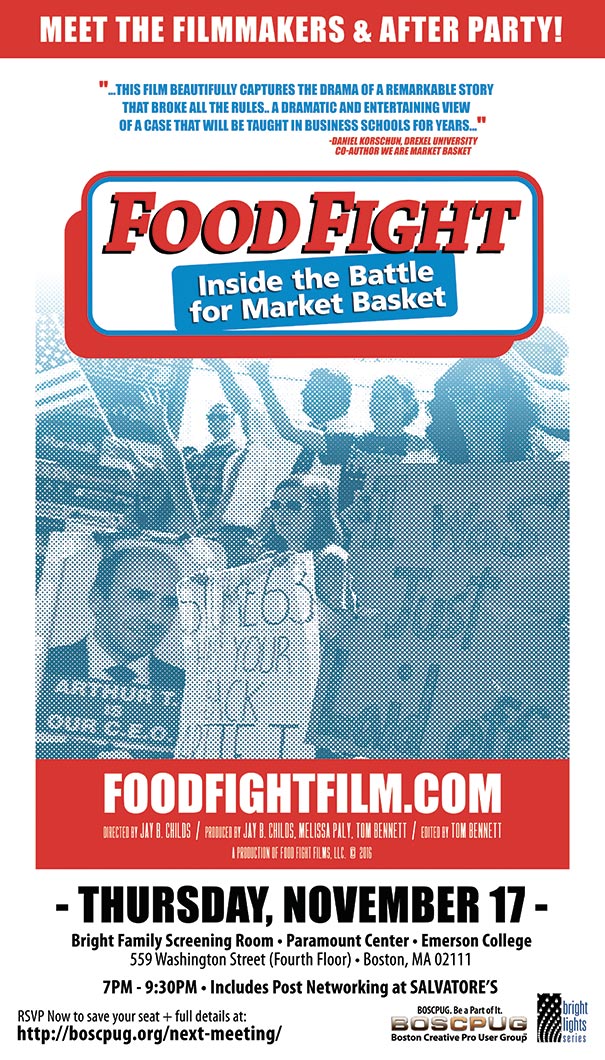 ---
Ask Questions on #Filmmaking!
---
INCLUDES After-Party + Networking at SALVATORE'S
Easy Validated Parking via SALVATORE'S
---
Join the Boston Creative Pro User Group and Bright Lights Film Series at Emerson College to celebrate our last BOSCPUG if 2016 on Thursday, November 17th - with post networking + refreshments (pizza and drinks) following at SALVATORE'S!
Get out to meet & mingle with fellow filmmakers in the 4K Bright Family Screening Room at The Paramount Center at Emerson College - Enjoy a great night of networking, engaging screenings & conversation - swap stories and business cards, discover talent and crew for your next project - and interact with members of Boston's Production and Post community.
Then, join us for an industry reception featuring Refreshments + Networking next door at SALVATORE'S. Grab a seat now!
Our BOSCPUG events and speakers that we invite to Boston are part of Emerson College's Bright Lights Film Series: http://web.emerson.edu/brightlights/
---
'FOOD FIGHT: Inside the Battle for Market Basket' Special Screening & Post-Discussion with Director Jay Childs
We're thrilled to hold our last BOSCPUG of 2016 with our special screening of 'FOOD FIGHT: Inside the Battle for Market Basket' followed by post-discussion with Director Jay Childs.
Throughout the summer of 2014, a corporate food fight played out in dozens of communities impacting tens of thousands of workers and the economies of three states. When the faction of the Market Basket board headed by Arthur S. Demoulas fired his cousin and arch-rival Arthur T. Demoulas as long-time CEO of the successful supermarket chain, it set off a firestorm that sparked one of most unique corporate dramas in American history. It's what the New York Times called "the last stand for the middle class."
FOOD FIGHT is the story of the battle to save Market Basket, and about the power of ordinary, passionate people to rewrite corporate history. Director Jay Childs will be available for a discussion after the screening!
Bring your questions with you to interact with Jay at this don't miss screening!
---------
PLUS OUR BIG DIG RAFFLE with Filmmaker Prizes from Other World Computing, Blackmagic Design, iZotope and more (subject to change)!
--------
- Then, join us for an industry reception featuring Refreshments + Networking next door at SALVATORE'S to enjoy a few cocktails and continue the conversation.
---
ABOUT THE BOSTON CREATIVE PRO USER GROUP
The Boston Creative Pro User Group (BOSCPUG) is a story driven, globally connected community of ready-to-collaborate digital filmmakers and broadcast professionals focusing on the craft of Visual Storytelling and related tools for digital cinema and distribution. BOSCPUG regularly brings top industry filmmakers and creatives to Boston to share and discuss their latest work and their workflows. BOSCPUG also regularly holds affordable production and post-production workshops. BOSCPUG is a professional, creative outlet to pitch ideas for episodic content creation and to discover talent, crew and distribution for your projects.
Read about 'American Hustle' editor Crispin Struthers, ACE at BOSCPUG.
Read about BOSCPUG at the Emerson Film Festival.
From NewEnglandFilm.com: "Boston Creative Pro User Group Nurtures New England Filmmakers"
---
ABOUT THE BRIGHT LIGHTS FILM SERIES
The Bright Lights screening and talk series is sponsored by the Department of Visual and Media Arts at Emerson College. The mission of the series is to provide engaging visual media related events to the Emerson College community as well as the wider Boston community. These events range from screening of student, faculty and alumni work to the work of local, national and international artists as well as demonstrations, lectures, discussions and presentations by industry professionals. Bright Lights seeks to create an environment where visual media is not only viewed and appreciated but where a dialogue is fostered and a community of media makers, academics and aficionados are engaged and supported.
All events are free and open to the public. Events take place every Tuesday and Thursday evening during the semester with the exception of occasions when the college is closed (such as holidays, spring break, inclement weather). Check out the Bright Lights Film Series now at: http://web.emerson.edu/brightlights/
---
ABOUT THE BRIGHT SCREENING ROOM
BOSCPUG is proud to work with Emerson Visual and Media Arts to offer an evening of production and post-production conversation in the intimate and state of the art Bright Family 2K Screening Room at The Paramount Center at Emerson College.
Named for the family of Kevin Bright '76, the Bright Family Screening Room seats approximately 200 people. It features the latest film and 2K digital video projection including 35mm and DCP playback. The dramatic double-height Gallery and Lobby connects to the Paramount Mainstage.
---
DATE: Thursday, November 17, 2016
TIMES: 7PM-9:30PM (doors open at 6:30PM)**
**Meeting begins PROMPTLY at 7PM!
VENUE:
Bright Family 4K Screening Room
The Paramount Center
559 Washington St
Boston, MA 02111
DIRECTIONS:
Enter the main entrance to The Paramount Center at 559 Washington Street. Go up the elevators to the left and to the 4th floor. There will be front of house staff to greet you at the Bright Family Screening Room.
Venue Box Office: 617-824-8400
SPECIAL VALIDATED $14 FLAT RATE PARKING:
*SALVATORE'S (545 Washington Street, directly between The Paramount Center and The Boston Opera House) offers validated discount parking for a $14 flat rate between 4pm-5am at LAFAYETTE GARAGE, across the street from the restaurant and inside the Hyatt Regency Boston, One Avenue de Lafayette, Boston) - stop by before BOSCPUG at Salvatore's for a bite to eat or coffee/drink!
Emerson also recommends to park in the Millennium Place Garage at The Ritz-Carlton Boston Common, 47 Boylston Street (617-574-7252). Note this parking is not vaildated!
MBTA:
- Orange Line: Take the Chinatown Exit
- Red Line: Take the Park Street Exit
- Green Line: Take the Boylston Street exit
MBTA info:http://mbta.com/schedules_and_maps/rail/
Special thank you to the Department of Visual & Media Arts at Emerson College for hosting our 2014 BOSCPUG Meets.
Questions? Email Dan Bérubé at dberube at boscpug.org
Date and Time
Location
BRIGHT FAMILY 4K SCREENING ROOM
The Paramount Center - Emerson College
559 Washington Street
Boston, MA 02111