Nourishing Roots of Resilience: Strengthen Core, Revitalize Connections
Sales Have Ended
Ticket sales have ended
Registration for CEC's 3rd Annual Resilience Course is closed. Seats have been filled. Thank you for your interest.
Sales Have Ended
Ticket sales have ended
Registration for CEC's 3rd Annual Resilience Course is closed. Seats have been filled. Thank you for your interest.
CEC presents "Nourishing Roots of Resilience: Strengthening Your Core, Revitalizing Connections", personally and professionally.
About this event
How do people thrive, flourish, and grow even stronger as they overcome the obstacles they face? The answer is resilience, and thankfully, the capacities of resilience are learnable and notably the most important resource for coping well during challenging times.
Starting September 13 through December 20th, 2021, Counseling & Education Center (CEC) is hosting the 3rd annual resilience training, titled Nourishing Roots of Resilience: Strengthening Your Core, Revitalizing Connections. The course is part of an annual series for people whose work puts them at a high risk of Compassion Fatigue - emotional and physical exhaustion that leads to traumatic stress. This year, participants will foster new skills in navigating personal and professional challenges and in re-engaging socially in a more resilient way.
The course is eight 3-hour sessions held Mondays, Sept 13 & 27, Oct 11 & 25, Nov 8 & 22 and Dec 6 & 20, 1 - 4:30 pm at Mesa County Workforce Center, rm B and C. Includes 28 hours of instruction, one individual coaching session, program materials, and snacks. Course Scholarships, courtesy of St Mary's Medical Center, are available for eligible applicants, please call CEC at 970-243-9539 for more details.
Questions? Details? Contact CEC at 970-243-9539. Register online by clicking TICKETS (green button). Registration fee is $400 with $100 OFF per ticket for nonprofits, government agencies and schools, email marie@cecwecare.org for promo code. There is a per ticket order limit of five due to limited seating. Safety is CEC's priority. COVID precautions will be in place. Face masks or coverings will be required regardless of vaccination status.
"My workplace satisfaction was at absolute zero prior to this course and now I'm able to enjoy my work." 2020 participant
Want to know more about the course: Given the challenges of the past year, so many people have been impacted physically, economically, socially and psychologically. Resilience seeks to support participants by increasing their self-awareness and self-care, their understanding of their own nervous system, their capacity to respond rather than react to stressors, and to make small but powerful choices in their day-to-day lives to increase their well-being. For the third year, CEC will be hosting an in-depth resilience training course. This annual training allows for learning in recognizing stressors that impact our resilience, practicing new skills for long-term resilience building and self-care, and connecting with other participants.
Licensed Professional Counselors Sydney Elks and Michelle Trosclair will be facilitating this years course. Both are master's-degree mental health service providers committed to their clients', and their own, resilience and growth. Their training is delivered in a relaxed and flexible manner with plenty of opportunity for questions and discussion. Resilience practices will help participants better discern where they currently stand in terms of their physical and mental health, and determine which steps to take to renourish their resilience – and ultimately thrive through current and future challenges. "As human beings we are up against so many challenges," says Michelle Trosclair, "If participants become familiar with how their own being is reacting to these stressors and take steps to become responsive and compassionate towards themselves, and their social interactions, then I am thrilled to know they are developing resiliency."
Both facilitators seek to bring positive change to people and organizations by effectively helping learners reduce stress and embrace a bounce-forward attitude. The course name, and the brilliant imagery by artist Cherie Roe Dirkson, is purposely analogous to the tree. "Trees are the iconic metaphors of resilience that survive under challenging conditions and thrive when their roots are nourished," adds Sydney Elks, "When people are resilient we have the capacity to withstand, bounce back from, and work through challenging circumstances. In contrast, when we are not resilient, we become very vulnerable".
With the pandemic, changes in work, and social strain testing everyone's resilience daily, the Nourishing the Roots of Resilience: Strengthening Your Core, Revitalizing Connections course addresses the trends that CEC, mental health providers, community organizations and government agencies are witnessing - the need to build the resilience of people in our friends, family, co-workers, employees, and community that will lead to better staff retention, improved relations, and better overall community health.
For details and cost, please call CEC at 970-243-9539. To register visit https://cec-resiliencetraining-2021.eventbrite.com
CEC is a nonprofit organization providing affordable and accessible professional mental health services at little to no cost for people in Mesa County. The course is made possible by grants from Western Colorado Community Foundation, United Way of Mesa County, Hilltop, and Mesa County Public Health, in partnership with St. Mary's Medical Center and Roice-Hurst Humane Society.
COVID-19 Precautions: The personal well-being and safety of guests, clients, participants, and community remains of highest priority. CEC will follow CDC and local health guidelines, best practices and protocols that exist for gatherings of this type prior to and during the scheduled course. At a minimum, CEC will request participants to wear masks at all times, regardless of vaccination status, while inside the classroom. CEC appreciates your understanding, collaboration and flexibility as each of us navigate through this difficult time together. Please contact CEC if you have any specific questions or concerns regarding these protocols at 970-243-9539.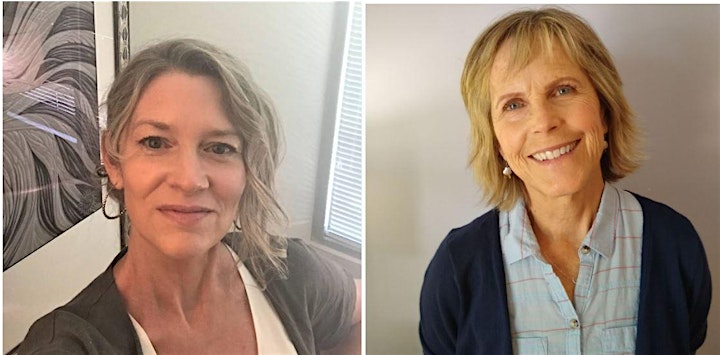 (Pictured left to right) Licensed Professional Counselors (LPC) Sydney Elks and Michelle Trosclair will be facilitating the course in partnership with CEC. Both are master's-degree mental health service providers in Mesa County. This will be their third year collaborating and developing the curriculum for resilient training along with Joan Mulleady, LPC.

Great appreciation to the talented Self-Empowerment Author, Musician and Artist Cherie Roe Dirksen for granting the Counseling & Education Center (CEC) permission to use her brilliant "Sitting Under a Tree" image to help promote the resilience training course. Dirksen has made something so deeply personal, and then presents it to the world with an open, resilient heart. She has two blogs on her Cherie Roe Dirksen website, one is devoted to stepping into your power and the other caters for creativity and the artistic process . Follow her on Cherie Roe Dirksen Official Facebook Page.
Organizer of Nourishing Roots of Resilience: Strengthen Core, Revitalize Connections