Description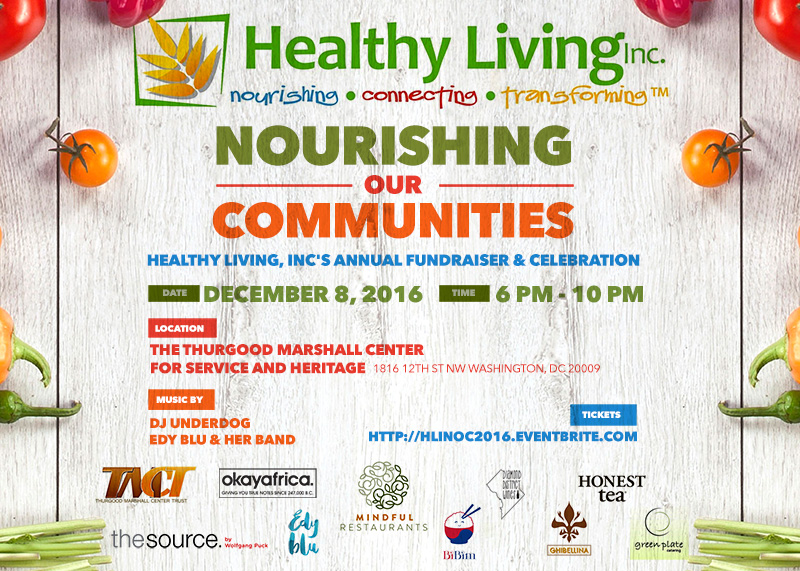 On Thursday December 8, 2016 from 6 – 10 pm; you are cordially invited to join a movement of tangible impact & substantive change in the District of Columbia!
"Nourishing Our Communities"
Our annual fundraiser & celebration for our 12th year in operation, our 2016 accomplishments and in support of our 2017 forthcoming programs and services for the communities of the Washington, D.C. metropolitan area.
Join us as we pay homage to our 1000s of constituents whom we serve, educate and empower through our healthy cooking outreach & nutrition education programs in the DC area.
Children are complementary / free entry!
Tickets / Donations are tax deductible / minus processing fees.
The evening will feature some delicious dishes from some of D.C.'s finest restaurants who specialize in natural food and support the mission of Healthy Living, Inc.
Complimentary Food Provided By:
* The Source by Wolfgang Puck *
http://www.wolfgangpuck.com/restaurants/locations/washington-dc
* Ghibellina *
* Bibim *
* Green Plate Catering *
http://www.greenplatecatering.com
Featured Guest Speaker:
Dr. Linda Thompson, Phd, LN from The Department of Nutritional Sciences at Howard University's College of Nursing & Health Sciences
Live Music c/o:
* Edy Blu & Her Band! (edyblumusic.com)
Edy Blu is a "country girl with an urban edge". A phenomenal singer, songwriter and musician, Edy Blu is readily touring the nation spreading her original, warm and positive sound. Edy Blu has also been an esteemed educator with HLI, bringing her multiple talents to educate youth and families at our intergenerational program in Ward 7. We are excited to feature Edy Blu and her band as our first live music performance for an HLI fundraiser!
Musical Selections for the evening c/o:
DC's OkayAfrica.com Ambassador:
* DJ Underdog (https://soundcloud.com/dj-underdog)
Charity Raffle w/ some awesome prizes from:
* Ripple
* Thip Khao & More
Sponsors:
* Thurgood Marshall Center Trust *
* Diamond District Wines *
* Honest Tea *
* The Black Restaurant Group*
* Ripple * (rippledc.com)
Donations made to Healthy Living, Inc are tax deductible, aside from processing fees.
About Healthy Living, Inc (HLI):
HLI is a 501(c)3 community-based nonprofit whose mission is to foster a culture of health, one healthy meal at a time. We teach people from all walks of life how to prepare delicious and nutritious food regardless of budgetary constraints.
HLI's healthy cooking outreach & nutrition education takes place through our after-school programs, shelter programs, WIC education programs and numerous other platforms for community engagement that educate 1000s of youth & adults each year. We work in partnerships with organizations such as DCPNI, So Others Might Eat, N Street Village, Bright Beginnings, Inc, Boys & Girls Club of Greater Washington, Concerned Black Men National, DC Department of Health, American Kidney Fund and numerous other public-private partnerships. This past Fall of 2016, we've had some major milestones: We moved into our new HQ at the Historic Thurgood Marshall Center for Service & Heritage. We launched a brand new website! (healthylivinginc.org). We also launched a new full time after-school program with our partner DCPNI in the Mayfair Community of Ward 7.
Our Outreach Community Programs seek to bridge the gap and nurture a culture of health for the most underserved populations in the District of Columbia. HLI's free programs are offered at shelters, youth organizations, schools, community centers and other venues where participants learn the skills to plan and prepare affordable, healthy, natural food. Financial support comes from grants, donations, earned revenue, and from our annual fundraiser.
Join us in Unity: Together we can nourish our communities!
Organizer of Nourishing Our Communities