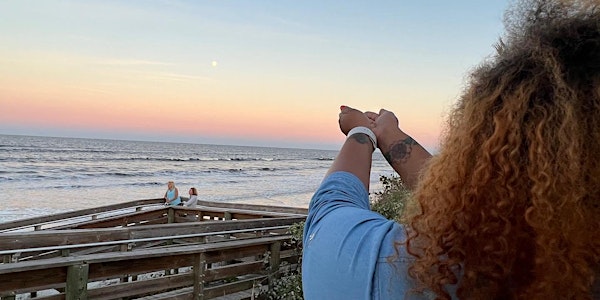 Nourish Your InnerG : Morning Reiki Meditation
We gather every Monday Mornings at 7am | EST with the intention that our work week is worthy of a creative, grounding & nourishing start.
Refund Policy
Contact the organizer to request a refund.
Eventbrite's fee is nonrefundable.
About this event
✨ Nourish your InnerG virtually every Monday Morning at 7 am | EST ✨
✨Come join us to participate in a 30-min or less practice of Meditation w/ long distance Reiki Grounding Energy.
✨Each week we will go through a series of mindful and energy based practices that will create room for the body, mind and soul to clear up stagnation and thrive with invigorating energy for the work week ahead.
✨Share your experience with others while building a community of like-minded families, healers and professionals.
What is Reiki ?
Reiki developed by Mikao Usui is an energy healing technique. This complementary therapy and life giving energy aims to promote physical, emotional, and spiritual healing through the therapist's placement of hands slightly off of , lightly touching the body, or long distance (remote) a technique that is believed to improve the flow of life energy in the individual.
Reiki Therapy or Reiki Energy Healing can be translated as Universal Life force Energy, a beautiful and integrating energy that aids in healing on all levels: the physical, emotional, mental & spiritual.
Reiki is a stress reduction and relaxation technique.
Reiki adapts to the needs of each individual so it knows exactly where to go in the body.
Reiki can be delivered anywhere in the world, energy is transmitted through time & space. All you have to do is be open to receiving it.
**Please note : Reiki is a complement not a replacement to the medical care you receive. Reiki is also not a practice intended to instill doubt in other medical treatments and interventions. Reiki is not a religion**
How to prepare :
Drink plenty of water before and after meditation and throughout the day. Staying hydrated is essential!
Create a clean, quiet and safe sanctuary for yourself : This can look like utilizing your bed, couch, yoga mat, floor or your workplace conference room. **Do NOT participate if you are driving**
Prioritize 30-mins or less to nourish your InnerG.
A small blanket or sweater is nice to have available if needed.
Bring a journal if you are called to write down any take-aways or new discoveries about yourself.
No experience with meditation or Reiki is required.
✨ Alexandra Tatis-Cummings is a Central Florida based Healing Arts Practitioner and Founder of Refined Inner Being, LLC. For more information about Alexandra and the impact she is making in the world please visit : www.refinedinnerbeing.com
Please be advised that by signing up for this event you will be added to the Refined Inner Being, LLC newsletter to inform you of future happenings , resources and well-being education . Your information will not be shared, however, you may choose to unsubscribe at any time.