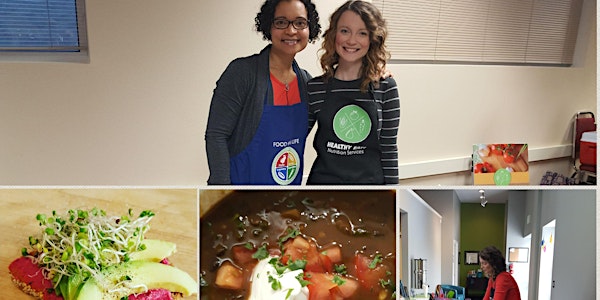 Nourish with Healthy Eats Cooking Class Series, Introduction: Understanding...
Location
Nourish Wellness
3105 Summitview Avenue
#c
Yakima, WA 98902
Description
Come join Elaina Moon of Healthy Eats Nutrition Services and Dr. Yami of Nourish Wellness in this information-packed, delicious, cooking and nutrition class. This will be the first in a series of 4 quarterly classes that teach you scrumptious recipes in addition to the science behind why this way of eating will nourish you to a healthy body. Together these two ladies will keep you entertained, educated and your belly full! They will demonstrate five recipes to taste and take home including:
Thai Sweet Potato Soup

White Bean Chili with Corn Avocado Salsa

Fall Cranberry Quinoa Salad

Maple Walnut Bites

Orange Chai Poached Pears
You will receive a beautiful notebook filled with nutrition information, 5 incredible recipes and a tote bag.
Tickets are $35 per person. Bring a friend or family member!

Save the date for future classes in this series:
March 9th: Healthy Habits for a New You
April 13th: Sustainable Health for Disease Prevention
May 11th: Maintaining Long-Term Success