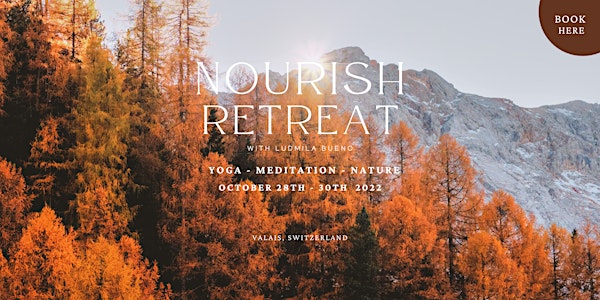 NOURISH Week-end Retreat: 28th - 30th October
To NOURISH yourself is to say yes, I AM WORTH giving myself all I need & desire. A week-end of yoga, meditation, embodied movement, nature.
When and where
Location
Hotel-Pension Beau-Site 13 Chemin du Mont 1927 Chemin Switzerland
About this event
When was the last time that you chose to gift yourself with a pause outside your busy life? A moment to meet yourself, a moment to turn inwards to the infinite beauty and wisdom that is present in your body and heart?
It is easy to get carried away by all the demands and pressures of the outside world and in doing so, walk away of ourselves, forget to tend to our bodies, our hearts, our souls and our minds with love and care. In a society that glorifies a constant doing, a living in the heads and in the future, a strive for always more instead of an expansion from the fullness and abundance of now, it has become normal to forget who we are in all this process. What do I need in this moment to show up as who I am? What do I need to fill up my cup?
Autumn is an invitation to SLOW DOWN, an invitation to start a journey in-wards into the 'cozy nest' of your body and heart hugged by your soul. A time that asks for less, for greater simplicity, for less doing and more being. It is a journey of feeling all, letting in and allowing what needs to go, go, a time to come inwards.
Are you ready to pause, to give yourself the gift of you, to listen, to receive, to re-connect with your nature? ARE YOU READY TO NOURISH?
To NOURISH yourself is to say yes, I AM WORTH giving myself all I need and desire, I am worth taking time to be with myself, to listen and tun to my truths.
This is a sacred journey of choosing yourself, it is A JOURNEY OF SELF-LOVE as the solid ground from which all can blossom, it is a journey of surrender, receiving and re-membering all you are and came here to be.
Your journey, in community, in tribe.
Hosted at the ecological historical Hotel Pension Beau-Site in Chemin Valais a paradise surrounded by high vibration nature, a nest of love in the Swiss Alps.
I will guide you through yoga, meditation, embodied movement, journaling and guided time in nature to find your own pathways to re-connect with yourself, to open to nourish your body, mind and soul and the ways that are true to you and your expression.
No early wake-ups, rest & respect for your body at the core of the experience.
You will leave feeling:
- Rested and nourished at all levels, with clarity on what actions to take for practice to happen in your mundane every day life
- Having found connection with your body as the home of your soul
- With a taste of what it is to love yourself
- With clarity that comes from your body wisdom once you pause to see, feel and hear yourself
- Ready to give from a place that is full and true to who you are
In a nutshell, over the course of the week-end you will receive:
- Single or Double Room
- Two 2hs morning practices
- Two 1h30/2h evening practice
- Two guided walks in nature with meditation
- Fire ceremony weather allowing
- Optional journaling meditations for your free/integration time
- Two sharing circles
- Personal time for rest, listening & contemplation
- Two vegan bio and local nourishing brunches & dinners.
- Herbal tea, coffee and fruit buffet during the day and coffee after dinner.
The EARLY BIRD PRICE goes until the 16th September 2022. Full price and possibility to book till 16th October 2022.
Are you curious to hear more about it?
CONTACT ME for info and Booking.
ludmilavictoria@yahoo.com
or by
phone/message: +41 79 391 40 63
Spaces are limited.
Much love & gratitude,
Ludmila