Event Information
Location
Theatre
RocketSpace London
The Yard, off Duncan Street
London
N1 8EQ
United Kingdom
Description
THE NEXT INSTALLMENT OF LONDON'S LEADING START-UP PITCH EVENT
is planned for

5pm - 8pm
on the

27th February 2018

@ Rocketspace, London Campus.
# 12 carefully selected
START-UPS
# 100 Investors
#
DRINKS & NIBBLES
COMPANY DESCRIPTIONS:
# A SaaS (B2B2C) player who is

the world's most intelligent Over-the-Top Wi-Fi engagement platform, using machine learning to build be

autiful relationships between brands and people.




# An AI player that

reinvents the search and feed user interface to organise and evaluate the overwhelming amount of new information

with state-of-the-art technologies in machine learning and network sciences.




# An Energy Tech player

that saves

consumer's

money on their home energy bills. Automatic. Free. Painless.




#

A

breakthrough in aviation security; using advance computing techniques to revolutionise the provision of risk management information by delivering higher quality analysis instantaneously, helping to keep passengers, crew and aircraft safe.




# A Health-Tech player that

has developed a new allergy test to improve the management of allergy. 80% of respondents to a recent US market survey indicated they would buy the

product which would be delivered by

their

fully owned US laboratory.




# As Millenial's love dogs more than Kids ..

Pet

-Tech is going to be huge.

Meet the leading marketplace for professional pet care!




#

This Scottish Start-Up

uses AI and semantic based IP to collect, clean and redistribute live events data to UK b2b clients and is looking for investment to expand internationally.




#

A French founded, London based

People-Tech player aiming to become

the marketplace used for hiring across all roles, levels and geographies.




#

A Hard-Tech enhancing semiconductor

computing power by reducing the performance gap between CPU and RAM for next generation Big Data applications.
# A Barcelona based Fash-Tech player that is driving the adoption of youth fashion fused with cool technology & has a pilot in place with Spain largest department store .. El Corte Ingles.


#

A Fin-Tech that gathers

data and make it human- and machine- friendly. We're just getting started, so we're focusing on a real niche: data on investor positioning and flows in emerging bond and currency markets.


# An Enterprise

OPTIMISATION SOFTWARE that

helps businesses to predict and meet demand, with a current focus on the workforce space. They e

nable

organisations to create optimal staff schedules, delivering a more accurate payroll spend, reducing overtime and increasing operational efficienc

ies



#
FOR THOSE THAT CANNOT BE THERE IN PERSON - we are working with INTELLIGENT CROWD TV
- who will be streaming the evening.

LOGISTICS:


FORMAT FOR THE EVENING:


# Registration:

4.45pm


# Event Start:

5.15pm

: Cognitive Deep-Dive with Smith & Williamson
# Pitches:

5.35pm

: 10 pitches (5mins each)
# Networking:

6.45pm


# Close:

8pm




# HOSTED BY CHRIS LOWE - founder - NOTWICS
WHERE IS ROCKETSPACE:
# Tube • Angel Tube, Bank Branch of the Northern Line • turn right and keep walking following the little white
rockets to Duncan Street • turn right at The York pub on the corner of Duncan Street • head down Duncan
Street past the row of shops until you see the RocketSpace entrance • head towards the Registration Desk next to the black gate
# Car • please use the drop-off point at the Duncan Street entrance • limited parking can be arranged in advance
# Bus • several buses stop on both sides of Upper Street very close to Duncan Street
HOPE TO SEE YOU THERE FOR ANOTHER FUN INSTALLMENT
.. .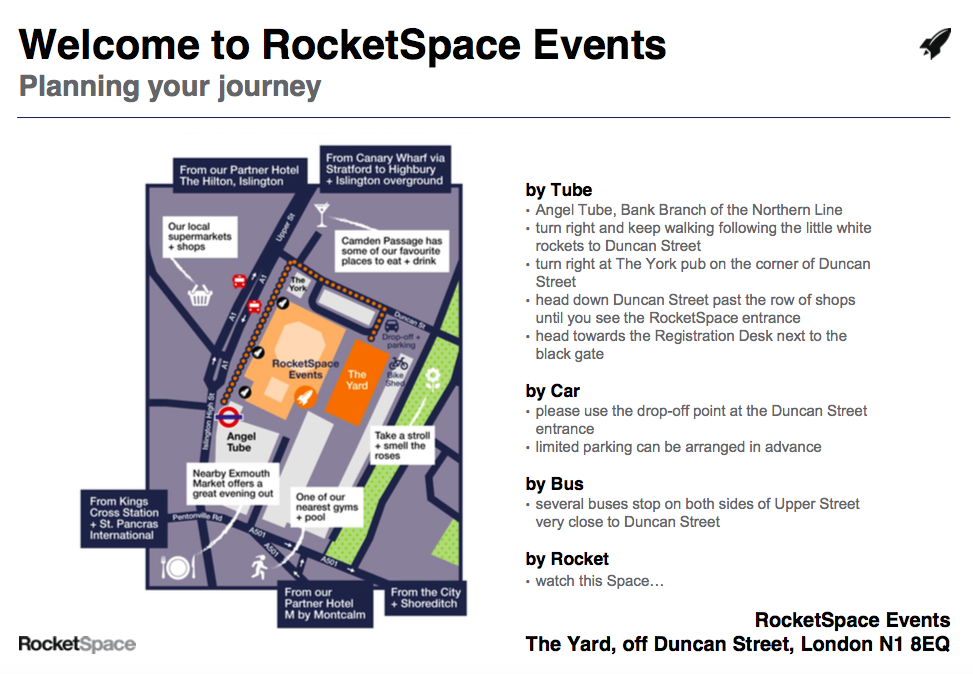 Date and Time
Location
Theatre
RocketSpace London
The Yard, off Duncan Street
London
N1 8EQ
United Kingdom