Description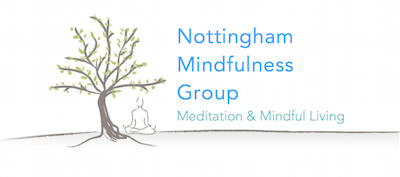 We are a group for anyone interested in
Mindfulness
, either as a form of personal spiritual practice or as a practical technique for living a better, calmer, more focussed and more productive life.
We hold regular meetings every week which offer (in a friendly, relaxed and informal atmosphere) the opportunity to:
• learn more about Mindfulness
• try-out some Mindfulness techniques and methods of Mindfulness meditation
• meet and get to know other people who are interested in Mindfulness (or in meditation in general)
Our weekly meetings include talks by guest speakers, periods of Mindfulness meditation, film and video presentations, information about Mindfulness events, classes and courses that are happening locally, and the opportunity to chat with other group members socially over refreshments. All are welcome and membership is free (although there is a small admission charge to our meetings to help cover room hire and other costs - see below for details).
Our meetings are casual, relaxed and "open", and they provide an opportunity to encounter Mindfulness in an easy and straightforward way. Our Regular Weekly Meeting takes place in the Nottingham city centre (close to easy parking and full public transport links, including rail), usually on a Thursday evening from 7pm to 9pm.
More About Our Regular Weekly Meeting...
We meet each week to learn about Mindfulness and to explore Mindfulness techniques, particularly the different methods of Mindfulness meditation.
These weekly meetings contain a mix of different elements - all of which are designed to deepen our understanding and experience of Mindfulness in a gentle, uncomplicated and easy-to-understand way. Our meetings include occasional talks from expert guest speakers, film or video presentations about Mindfulness, and practical exercises that can help us to live in a Mindful way. Every week there are periods of group meditation that form a key part of the evening - providing direct, practical experience of Mindful meditation. Plus there's opportunity to chat and get to know other group members over refreshments, making it a fun social evening too!
The atmosphere is very friendly, relaxed and informal - you'll get to meet a great bunch of interesting people, and new faces are always very welcome.
Refreshments are available, including tea, juice and biscuits (which are FREE). Other hot and cold drinks (including latte, cappuccino, sodas, hot chocolate and herbal teas) plus cakes and pastries can be purchased from the Cafe Sobar counter. Most weeks there is also a book table that offers a wide selection of books and CDs on Mindfulness and meditation (kindly provided by Five Leaves, Nottingham's independent bookshop), these can be purchased at 10% off the normal, in-store price.
We meet at 7pm (although doors open from 6pm, so feel free to arrive early) and the meeting runs through to approximately 9pm.
To help cover room hire and other costs, there is a modest admission charge to our meetings - you can pay when you arrive on the door (cash only), or you can secure your place in advance by buying your ticket here on Eventbrite (although please note this incures an extra charge of £1.50 to cover Eventbrite's fees):
£5 waged (or £6.50 as an Eventbrite advance ticket)

£3 concession/unwaged (or £4.50 as an Eventbrite advance ticket)
For help or further information:
see our website www.NottinghamMindfulnessGroup.co.uk
or
view our page on MeetUp.com (www.meetup.com/Nottingham-Mindfulness-Group-Meditation-Mindful-Living/)
or
feel free to contact our Group Organiser, Shaun - email: shaun.g@hotmail.com | mobile: 07769 574063
You can also follow us on facebook.
About the Venue...
Cafe Sobar is a pleasant, contemporary cafe-bar-restaurant that is very light and spacious and which has a terrific, quite calming atmosphere. It is very centrally located in the Nottingham city centre, just a two minute walk along Friar Lane from the Old Market Square (which is the hub of the Nottingham city centre, for those who aren't too familiar with the city). It's close to bus and tram stops, and it is a short walk from the rail station. There is convenient parking nearby, including inexpensive on-street parking in Castle Road, off Castle Boulevard (just £1 in the meter for the whole evening after 6pm).
About Mindfulness...
Mindfulness is a set of simple, meditation-based techniques that enable us to focus our attention fully in the present moment. The aim of Mindfulness is to live a part of each day deeply emersed "in the now".
These techniques, which are Buddhist in origin, are today widely recognised as an effective approach for increasing well-being, managing stress, pain and illness, improving our quality of life, improving relationships, and becoming better at whatever we choose to do. By becoming more Mindful we can create the conditions that give us greater choice in how we respond to our experiences, thereby enabling us to have a rich and fulfilling life, even in difficult circumstances.
Mindfulness is simple and is for everyone. Whether you want to reduce stress, improve your performance, become a better leader, experience greater well-being, manage pain or change habits that are difficult to break, mindfulness training and regular mindfulness practice (even as little as 10 minutes a day) will help.
---
Please Note:
Our meetings are designed to share information about Mindfulness and to offer the opportunity to experience and practice Mindful meditation. These meetings are not structured to form a progressive course or formal training in Mindfulness, and they do not, in and of themselves, constitute a "Mindfulness-Based" therapy (such as MBSR or MBCT). The Group publishes and promotes full details of the formal classes and courses in Mindfulness and "Mindfulness-Based" therapies that are available in Nottingham and the wider East Midlands - please ask us for a free copy of this information if it would be of interest to you.
Mindfulness and other forms of meditation are safe and appropriate practices for the vast majority of people and they are proven to offer a wide range of benefits, including the lowering of stress and deep levels of relaxation. Current research indicates that all forms of meditation (including Mindfulness) may be unwise for people with bipolar vulnerability or those who are suffering from Post Traumatic Stress (PTSD). If you are currently receiving treatment for any form of mental health issue (or have received such treatment in the recent past, or have reason to believe that you might need such treatment), you should consult your doctor or health care professional before engaging with Mindfulness or any form of meditation.