Description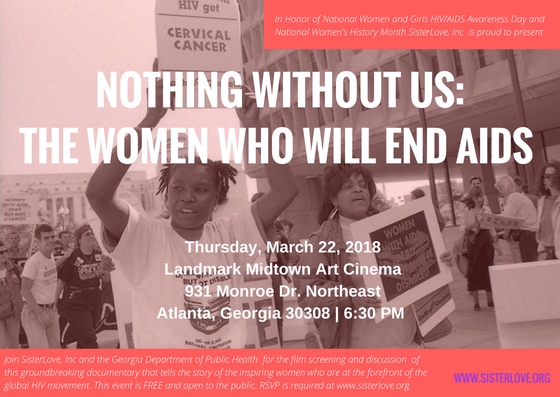 Please join SisterLove Inc and the Georgia Department of Public Health as we celebrate National Women and Girls HIV/AIDS Awareness Day and National Women's History month with a screening and discussion of the groundbreaking documentary "NOTHING WITHOUT US" THE WOMEN WHO WILL END AIDS" on Thursday, March 22nd at the Landmark Midtown Art Cinema in Atlanta, Georgia.
Nothing Without Us is the first and only documentary telling the story of the inspiring women at the forefront of the global AIDS movement. Combining archival footage and interviews with female activists, scientists and scholars in the US and Africa, the film reveals how women not only shaped grassroots groups like ACT-UP in the U.S., but have also played essential roles in HIV prevention and the treatment access movement throughout sub-Saharan Africa. The film explores the unaddressed dynamics that keep women around the world at risk of HIV, while introducing the remarkable women who have the answers to ending this 30-year old pandemic.
A panel discussion will follow the screening.
This event is FREE and open to the public. RSVP is required at www.sisterlove.org.
For more information, please contact SisterLove at 404-505-7777 or tpennick@sisterlove.org.