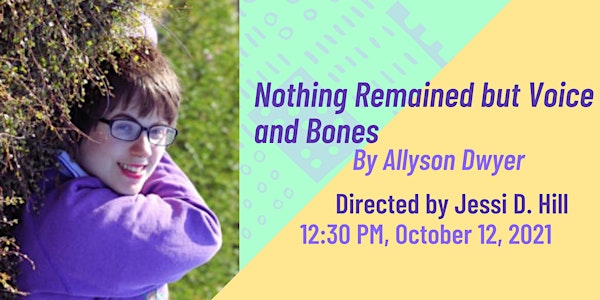 Nothing Remained but Voice and Bones by Allyson Dwyer
Part of Clubbed Thumb's 2021 Reading Series, featuring plays from the last two years of the Early-Career Writers' Group.
When and where
Location
Wild Project 195 East 3rd Street New York, NY 10009
About this event
Nothing Remained but Voice and Bones
by Allyson Dwyer
directed by Jessi D. Hill
featuring Alix Curnow, Susan Ferrara, Megan Hill, Matthew Korohais, Susannah Perkins, Peggy Scott
In second grade, Narcissus visits overweight Mel and informs her that she is cursed to search for perfection but to never find it. Unable to grapple with this truth, she spends a lifetime letting this curse define every relationship, even those between her past selves. Only Mel can find a way to break out of a cycle of self-hatred that keeps her from realizing what is truly beautiful about her body and her existence.
Allyson Dwyer is a playwright from New Joisey. Her full-length plays include The Myth of the Tree, The Hub (Princess Grace Fellowship Semi-Finalist), Nothing Remained But Voice and Bones (NAP Reading Series Semi-Finalist, New American Voices Semi-Finalist) and Arrow of Time (The Brick 2022). Her short An Instant Message was a top twelve finalist in Sam French's 2021 Off-Off Broadway Short Play Festival. She is a member of The Brick's inaugural SoundLab and Clubbed Thumb's Early Career Writer's Group and was recently published in a monologue book by Theatre Unbound. She loves bunnies, missing the old days of the internet, and dreaming. Say hi to her at allysondwyer.com.
This series features plays from the last two years of the CT Early-Career Writers' Group. All 16 readings are free to attend, but reservations are required. CLICK HERE FOR A FULL SCHEDULE.
All attendees must provide proof of vaccination and wear a mask at all times in the theater. For proof of vaccination, attendees may use either a CDC Vaccination Card or an Excelsior Pass, along with a photo ID.