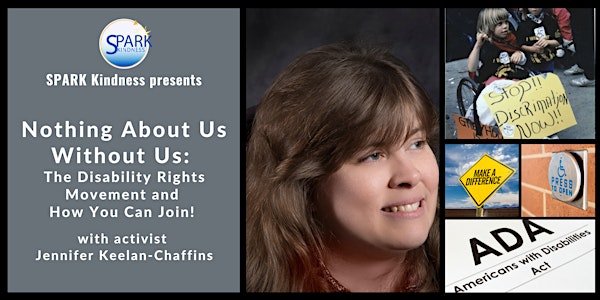 Nothing About Us Without Us: The Disability Rights Movement
SPARK Kindness presents this FREE program: Nothing About Us Without Us: The Disability Rights Movement and How You Can Join!
About this event
For high school students and educators, parents/caregivers and community members
Celebrated activist Jennifer Keelan-Chaffins will discuss the extraordinary efforts that led to the passage of the Americans with Disabilities Act (ADA) and her role in that history-making event. We invite educators, students, and community members to learn this important history of disability rights and how to be more involved.
ASL interpretation will be provided at this event.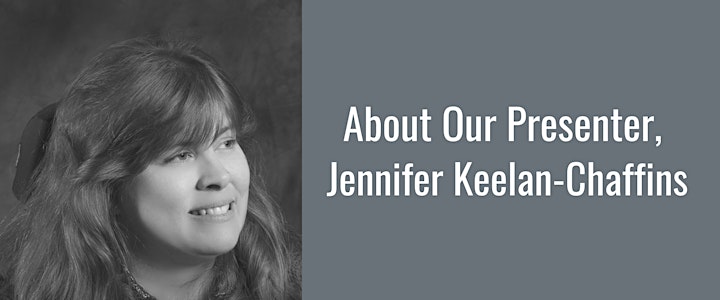 About our Presenter
Jennifer Keelan-Chaffins is a passionate advocate and activist for disability rights.
She joined the disability rights movement at age six and at age eight she participated in the famous "Capitol Crawl" protest to support the passage of the Americans With Disabilities Act. In 1990, she received the Americans With Disabilities Act Award from The Task Force on the Rights and Empowerment of Americans with Disabilities. Jennifer received her GED in 2002 and an Associate of Arts Degree in 2008 both from Arapahoe Community College before earning a B.S. in Family and Human Development from Arizona State University in 2017.
Today she's an educator and a motivational speaker; and together with her new illustrated biography "All the Way to the Top: How one girl's fight for Americans with disabilities changed everything," she does educational speaking presentations to teach children the importance of the ADA, the Capitol Crawl, and the disability rights movement in American history with a emphasis on education, advocacy, and empowerment. Jennifer is the subject of an art sculpture commemorating the 30th anniversary of the ADA, "All the Way to Freedom" by local artist Gina Klawitter that is currently on display at the Colorado History Center. Jennifer is the brand ambassador for Mobility of Denver and Vantage Mobility International. She is also owner of Jennifer Keelan-Chaffins LLC.
You can learn more at https://jkclegacy.com/ and can follow Jennifer on Twitter @JKClegacy and on Instagram @JKClegacy.