Notes to a Team Leader: Growing Self Organizing Teams Workshop NYC with Roy Osherove
When and where
Location
MicroTek 90 Broad St 11th Floor New York, NY 10004
Refund Policy
Contact the organizer to request a refund.
Description
Based on the Book Notes to a Software Team Leader by Roy Osherove
Who this is for
If you've asked yourself any of the following or similar questions, this workshop is a good fit for you.
"How do I get my team to work the 'right' way?"

"People promise me things and never follow through. How do I change that?"

"We never have enough time to do anything but put out fires. What can I do?"

"Our quality is problematic and nobody is willing/able to do anything about it. How can I make things better?"

"How do I measure my success as a leader?"

"What should I do about that one problematic person in my team?"

"What do I do if my team doesn't seem to care?"
This seminar/workshop is designed for
Scrum Masters

Architects

Project Managers

Technical & non technical team leaders

Anyone who is considered an "Expert" in their work place, about a specific topic.
Whether you are new to your leadership role, or you have lots of experience, the problems dealt with in this seminar are universal, and very little is done today to teach us what to do in specific situations.
The Problem
As managers, architects, and other types of technical team leaders, you usually learn the "practices" of how your teams should work. You learn about methodologies and techniques for delivering software, stand up meetings, TDD and more.
Often, you leave courses on these topics with a great desire to "change" how things currently work at your job, but soon discover you're stuck. Stuck convincing your team to adopt specific practices. Stuck by not having enough time to learn how to accomplish these practices ("we don't have time for unit testing"). Stuck with all the people related aspects of leading a team.
Objective
A smart man once said, "All software problems are people problems".
In this workshop we will learn essential skills and techniques for leading software teams, based on elastic and adaptive leadership principles. You will gain the skills to make real change happen in your team, and to grow the team you want from the team you have.
Elastic = Fits to and changes with the current situation
1. Learn about the three team modes: Survival mode, Learning mode and Self Organization Mode. Learn how to know which mode your team is in right now.
2. Learn essential skills for the three phases of the team: Command and control leadership, Coaching and facilitative leadership.
3. Learn how to begin real change by understanding why people behave the way they do, and the six influence forces that affect our behavior.
4. Participate in engaging exercises that will examine and challenge your skills at the various leadership modes.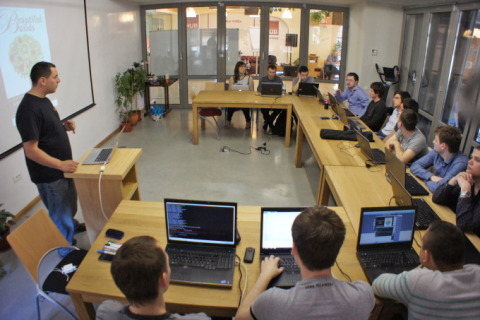 Agenda
The role of the leader, and the leader's manifesto

Introduction to elastic leadership

The three team and leadership modes

Survival mode and how to get out of it

Commitment Language
LUNCH (included in ticket)
The Learning Mode, and the coaching leader

How we learn

How to grow skills in people

Delegation as growth tool

"What are you going to do about it?"

Team Homework

Clearing Meetings and growth meters

Influence Forces

Understanding your role in self organization
"I liked the fact that this course['Lead Better'] was aimed specifically at development team leads, and it exceeded my expectations. The course really does several related things: demonstrate how to put some processes in place to help improve the overall performance of a team and create an environment where more learning and growth can occur; provide some insights into personality types; and teach open communication skills which then help maximise team and personal growth. Any one of those things alone is useful but the combination is very powerful."

... "I learnt a lot, not least about my own communication methods and I found Roy very inspirational - he led by example and created an atmosphere of positive constructive feedback which made the course extremely productive and enjoyable. I'd definitely recommend this course for both new and established team leaders who are genuinely interested in improving themselves and their teams.."
Chris Cracknell, SimCorp
Based on the Book Notes to a Software Team Leader by Roy Osherove
About the Instructor
Roy Osherove recently moved to NJ. He is the author of "The Art of Unit Testing" and "Notes to a Software Team Leader" and works as a senior staff engineer at Siemens Healthcare in New York. He also trains and speaks on the topics of his books (plus other things) in various countries and conferences around the world. Roy has been shipping real software for over 17 years, and has failed plenty of times. The lessons he learns the hard way he likes to share on his blog at 5whys.com .