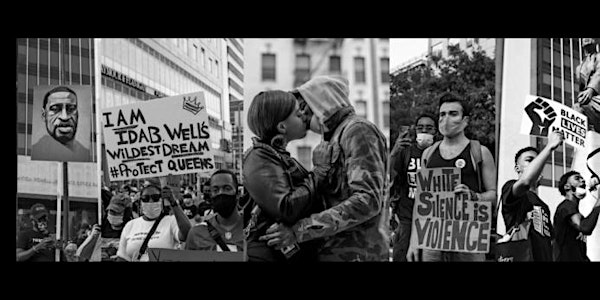 Notes From Harlem: Photography by Sekou Luke
Notes From Harlem: Photography by Sekou Luke
When and where
Location
Revelation Gallery 224 Waverly Place 1 New York, NY 10014
About this event
NOTES FROM HARLEM is a collection of personal photography, videography, and digital art NFTs captured by Sekou Luke throughout the spring and summer of 2020. These images illuminate Harlem's resilience while experiencing both a global pandemic and the racial justice awakening with the Black Lives Matter movement after the killing of George Floyd (25 May 2020). The collection has expanded to include two iconic images of the actor Michael K. Williams attending the Malcolm X Day March in Harlem, May 2021, as well as a collaborative work by collage artist Kendrick Daye. Amidst the devastating impact of two pandemics, this body of work affirms that we are a community standing in defiance, dignity, and reliance.
View the NY1 report on Notes From Harlem here: https://vimeo.com/641762836
This opening reception runs from 6pm to 8pm. Face-coverings are optional. If you wish to wear a mask please try to bring you own as we have only a limited supply.
The exhibition runs through the month of February. Normal gallery opening times are 11am to 3pm Monday through Friday (but sometimes subject to change).
Artist's Biography
Sekou Luke is a Harlem-based filmmaker, photographer, and producer. His film series for Family Values @ Work was used to introduce President Obama at the 2016 White House Summit on Family. His storytelling has taken him global from behind the scenes at Paris Fashion Week to The Oscars to the El Paso Mexico border.
Clients include: Amazon Prime Video, Mediacom, The Apollo Theater, Harlem Stage, The Billie Holiday Theatre, ROC-United, V-Day, The Schott Foundation, Ford Foundation, Family Values @ Work, Step Afrika, Essence Magazine, The Creative Jenius, Report, and PopMatters Magazine.
Sekou has recently released NOTES FROM HARLEM, a collection of photographs taken throughout Harlem during the BLM summer of 2020 and global COVID-19 pandemic. The complete collection, which premiered at the Kente Royal Gallery in Harlem for Black History month 2022, speaks to the community's resilience and passion. Noted collectors include Reggie Van Lee and Bevy Smith. In June 2022, Sekou was honored for his work in the Harlem community with the Harlem Festival of Cultures first Black Independence Awards Visionary Award winner. Sekou was the featured artist at the prestigious National Art Club in November 2022.