Not Tonight, Dear: Managing Mismatched Sex Drives {Couples Social}
Description
Let's talk about sex...
and why you may not be happy with how often it happens in your relationship!
It may not be openly discussed, but the reality is that many couples struggle with unequal levels of sexual desire. Partners with a higher libido often feel rejected and unwanted, and those with a lower drive often feel guilty and pressured into having sex.
Both sides can find compromise difficult, either from feeling their needs aren't being met, or that their body is not their own.
Join us for cocktails and conversation about this important (and sometimes awkward) topic! We'll enjoy light bites and complimentary cocktails and mocktails while diving into real talk about how to make passion and pleasure a fun part of your relationship instaed of a point of conflict!



Join relationship experts Esther Boykin and Erica Turner, as we share tips and suggestions for couples dealing with sexual incompatibility. Learn how to:
have honest conversations with your partner about sex

better understand each other's sexual perspective

get your needs met within the relationship

make peace with seemingly dueling sex drives

and more!
Want to know more about what to expect? Check out this video!
This fun and informative discussion will be held in the private offices at Group Therapy Associates. Esther and Erica will share expert advice, and participants will have the opportunity to ask questions.
We will have opportunities for men and women to share anonymously and also speak frankly with each other about the challenges of finding the middle ground when it comes to sex.
Want to know what others think about Therapy is Not a Dirty Word events?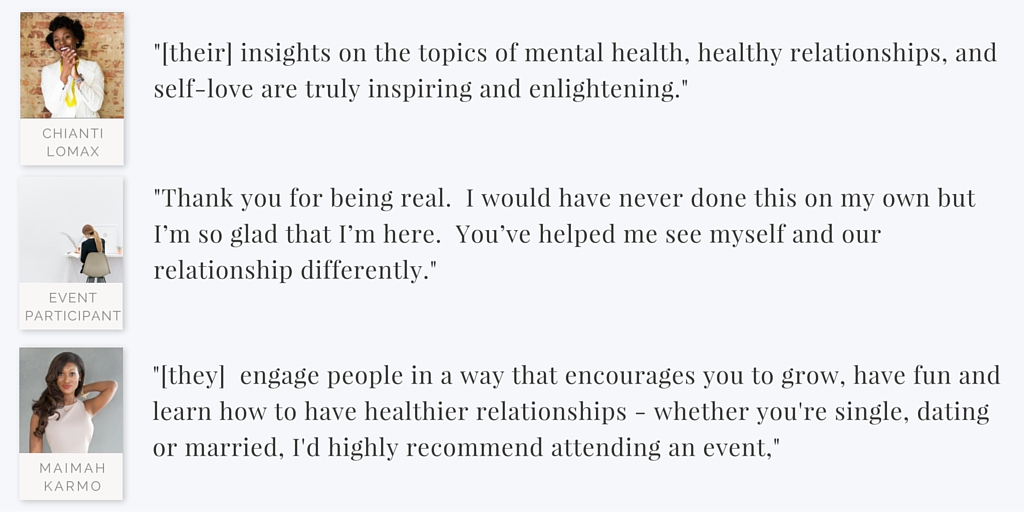 FAQ's
Is this event going to be like therapy?
Therapy is Not a Dirty Word events are not therapy. Rather, we take tools that we use in our therapy practice to help individual and couples learn tools to help their relationship in a fun, relaxed setting. We know that sometimes folks need just a little help to get their relationships back on track, and are not looking for the longer term commitment (and investment) of therapeutic work.
Are you going to ask me to share personal information in front of strangers?(!)
Participants are invited to share as much information as they feel comfortable with. We don't push anyone to reveal sensitive info unless they choose to do so. That said, we find that as participants relax in the intimate, personal setting, they often feel a camaderie with couples and individuals who are facing some of the same challenges they are.
Who are you people?
We're so glad you asked! Esther, Boykin, LMFT is the CEO and owner of Group Therapy Associates (the mother to this super cool kid we like to call TINDW). Esther is a licensed marriage & family therapist, author, and sought after relationship expert, with appearances on Let's Talk Live, Fox5DC, and Good Morning Washington. Erica Turner, MS is a Resident in Marriage and Family Therapy and Director of Marketing at Group Therapy Associates. Erica works with couples each day, and is an avid writer and contributor to outlets such as Fox5DC and the DC Ladies. Combined, Esther and Erica have more than 15 years of experience of working with couples, and over 30 years of being married themselves. So really, we get it!
Read some of our articles here and here, check out our podcast, or visit us at Threrapy is Not a Dirty Word!

Have questions? Email Erica Turner at erica@grouptherapyassociates.com :)