Description
Haven House has partnered with the Wayne Martial Arts Center to host the "NOT TODAY!" a self defense class in Wayne, NE!
ADMISSION COST: We are just asking that you donate laundry detergent OR a household cleaning item for attending this class. These items will be donated to Haven House to help survivors of domestic violence and sexual assault.
Learn how to keep yourself safe in all types of situations. You'll get the opportunity to learn from trained instructors on using everyday objects as weapons, self-defense moves, tactics to keep yourself safe, and how to fight off a potential attacker. Sometimes the best defense in a situation is self-defense.

BE TRAINED. BE PREPARED. BE EMPOWERED.
The inspiration from the name of this class came from the story of this female jogger. She had just been through a self-defense class when an individual attempted to rape her in a park bathroom. She was prepared with the lessons she learned in the self-defense class she had recently attended. As she fought off the attacker, she also screamed out "NOT TODAY (expletive)!!!!!". Check out the video below to learn her story and see what happened.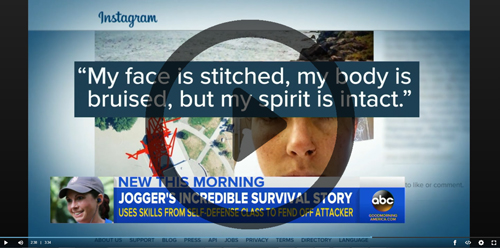 FAQs
When do doors open?
Doors open at 3:30pm and the class will start at 4:00pm.
Does this class cost?
A donation of laundry detergent or a household cleaning item is required for the class. These items will be donated to Haven House to help survivors of domestic violence and sexual assault.
What is the minimum age requirement?
The minimum age to attend is 14 years old.
Is this class only for females?
This class is open to both females and males to attend. Abuse happens in all walks of life, and we want everyone to be equipped with the tools to defend themselves. There will be both male and female instructors.
Do you need any prior training to attend this class?
Nope. This class is designed for people from all walks of life.
What should I wear?
Athletic pants & a t-shirt would be best. You will get opportunities to practice self-defense moves and tactics, so you'll want something that you can easily move in.

Do I need to sign a waiver?
Since this is a self-defense class, Wayne Martial Arts Center does require for a waiver to be signed. After you register we will e-mail you a printable waiver form that you can print off, sign, and bring with you to the class. If you forget to bring yours, we will have waivers available at the door that you can sign. Individuals younger than 18 years old will require a parent/guardian signature.
How can I contact the organizer with any questions?
If you have any questions about the event please call Haven House at 402-375-5433 or e-mail joshs@havenhousefsc.org