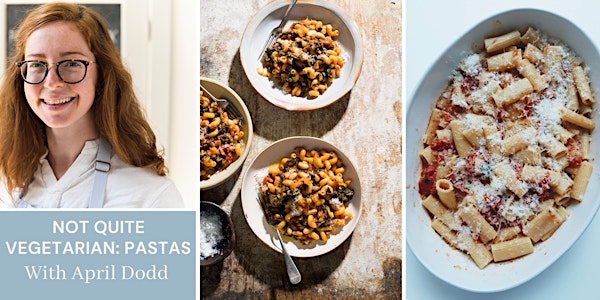 Not Quite Vegetarian: Pastas with April Dodd
Join Milk Street's April Dodd to learn how you can make vegetables the star and meat the supporting cast in your fall cooking.
Refund Policy
Contact the organizer to request a refund.
About this event
NOTE: iphone and ipad users, CLICK HERE to register for class.
In this 75-minute livestream class taught by Assistant Director of Education April Dodd, you'll learn how to use less meat, lots of vegetables, and smart technique to make two main course pastas. First, as we know, great things come in small packages, and in this class a few tiny anchovies and a handful of diced pancetta turn our two pasta dishes into robust, almost vegetarian meals. Often vegetable-laden main courses use cheese or cream to become hearty enough to satisfy. But dairy fats can dampen the vibrant flavors of vegetables. Umami-ladden anchovies and pancetta, however, are flavor enhancers. They both amplify the vegetables and make an otherwise lean dish feel substantial. Another way to make sure vegetable-foward fare fills you up is to think about technique. Charring vegetables, as you'll do in our Rigatoni with Cherry Tomatoes and Anchovies, adds a satisfying smokiness. And in our Pasta with Pancetta, Swiss Chard and White Beans, you'll learn to make a creamy — but cream-less — sauce by using less water and cooking the pasta and sauce together in the same skillet. Join April to learn how you can make vegetables the star and meat the supporting cast in your fall cooking.
Want to give this class as a gift? You can purchase gift cards here.
Bonus: All attendees of this class will receive a one-time 15% off coupon to the Milk Street Store after class.
This event has limited spots, and you must register in advance via Eventbrite. One sign-up covers one device. Closed Captioning is available for this event.
Immediately after registering, you will get a confirmation email that contains the Zoom meeting log-in information. One week prior to class (or within 48 hours of registering, if you sign up less than a week in advance), you will receive an email with the ingredients, equipment and prep you'll need to cook along with us, if you choose.
After class, you will receive a recording of the event, as well as a folder of recipes and resources that we discuss during the event. Class recordings are available to all registered attendees for two weeks following each event.
Payments for Milk Street live stream classes are non-refundable. If you find yourself unable to attend, you may transfer the ticket to someone else, but we are unable to refund fees and all payments are final. Classes are subject to cancellation at any time. In the case of cancellation by the event organizer, all paid tickets will be fully refunded.
Proceeds from live stream cooking classes support Milk Street's non-profit work with The Big Sisters Association of Great Boston, The Boys & Girls Club of Dorchester, and other partners.
If you have any questions about this class, please don't hesitate to get in touch via cookingschool@177milkstreet.com.