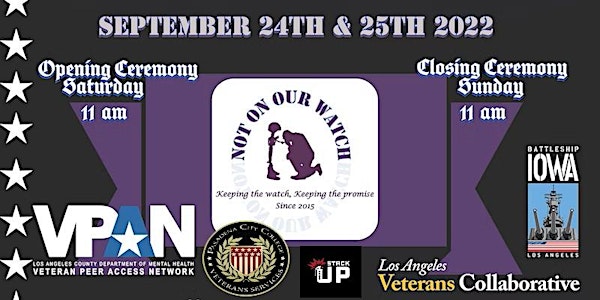 Not On Our Watch 2022, Aboard the USS IOWA BB-61
This event is to bring awareness to the 22 Veterans and First Responders who lose their battle with PTSD every day.
When and where
Location
Battleship USS Iowa Museum 250 Harbor Boulevard Los Angeles, CA 90731
About this event
Currently, there are more Veteran deaths attributed to suicide than killed in action in both wars fought in Iraq and Afghanistan. Suicide is a battle. Veterans and their families cannot fight alone. Wellness Works Glendale is a non-profit provider that serves our military men and women, active duty, veterans, first responders, and their families. We are committed to relieving the lingering stress and suffering that military duty often brings to families through our "Welcome Home Veterans" program. While some veterans have physical wounds that can be seen, other Veterans have invisible wounds of the heart, soul and mind. We, as Americans have a tremendous opportunity as well as responsibility to help prevent Veteran suicide, which cannot be left to veterans, their families, or the VA to address alone.