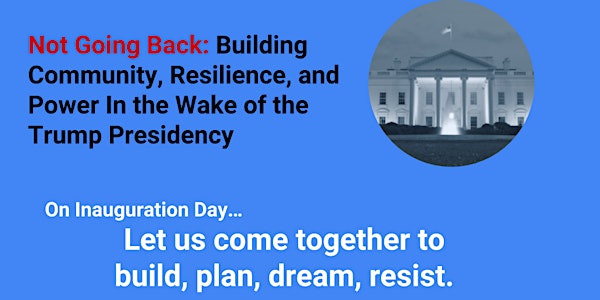 "Not Going Back: Building Community, Resilience, and Power in the Wake of the Trump Presidency"
When and where
Location
University Center, The New School 63 Fifth Avenue New York, NY 10003
Description
How will you spend this Friday, Inauguration Day?
Let us come together to build, plan, dream, resist.

Come to The New School for "NOT GOING BACK: Building Community, Resilience, and Power in the Wake of the Trump Presidency."
FREE workshops, trainings, self-care/healing spaces, performances and interactive art projects are happening throughout the day. It's a gathering of those committed to learning more about how to do their part in advocating for social justice and resisting the potential rollback of civil and human rights . . .and it's happening throughout University Center (5th Avenue & 13th Street) at The New School from 10 am - 6 pm.
This event is FREE and open to the public (please bring photo ID). Sponsored by the Office of Social Justice Initiatives at The New School and Lang CESJ.
For more details go to: NotGoingBack.info --- Questions: socialjustice@newschool.edu
---
Building on the strengths of the "teach-in" model - "Not Going Back" is organized around four types of interventions: 1) Context/ Learning As We Build 2) Practical Knowledge and Skill-Building 3) Strategic Advocacy 4) Self-care and healing spaces
Here is a look at some of the workshops,trainings and mini-lectures that we have planned. . .
Hacking Capitalism: Divesting, Debt & Ethical Money Management

Radical Relaxation: Assisted Savasana

Readings of Compassion and Resistance: A Community Open-Mic

Know Your Rights: What to Do If You're Stopped By the Police

Theatre of the Oppressed: Organizing On-Stage and Off

Know Your Rights: Digital Privacy in the 21st Century

Lobbying 101

Structural Oppression

Beyond Beautifying: Using Design to Envision Our Futures

Reversing the School to Prison Pipeline during a Trump Presidency

Resistance Through Writing

White Man Teaching: Confronting Race in a Segregated Schools

How to Organize 1-on-1

Visioning for Black Lives Under Trump

Tenant's Rights in the Age of Trump

Snapshots of Activism at the New School

Art for Protest!

Where Do We Go From Here? Race in a Collective Future

Digital Self-Defense in the Time of Trump

Active Listening

Trumpism and White Nationalism in the Post-Civil Rights U.S.

Boycotts as Act of Engagement

Self Care and Radical Openness

Creating a Healing Space through Mindfulness and Meditation

Writing the Self: Our Stories, Healing and Magic for Change

Staying Engaged: Political Consumerism and Activism

From Slavery to the Prison Industrial Complex
PLUS - Participatory art installations from the Museum of Impact, #iCalled, a spoken word performance, film screenings, spoken word performance and a livestream of the sold-out "Concert for America." - and free food!
---

We gather on Inauguration Day to make it plain that we will not stand idly by and watch communities disrespected or abused.
We will not consent to restrictions on human and civil rights.
We will not allow the United States to become further isolated in the global community.
We will not be overwhelmed by the challenges ahead.

We are NOT GOING BACK.


---
Join us at The New School on Inauguration Day/ Friday, January 20th! For more information: NotGoingBack.info
Sponsored by the Office of Social Justice Initiatives at The New School. Questions? Contact us at: socialjustice@newschool.edu.