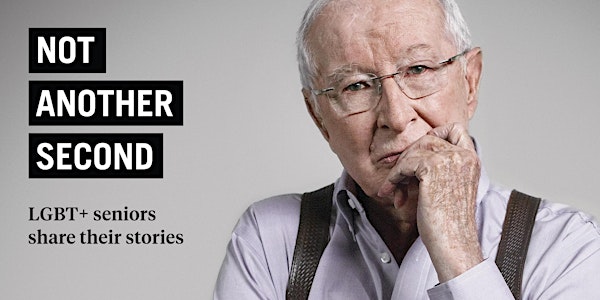 Not Another Second: LGBT+ seniors share their stories - Art Exhibition
Interactive national cultural awareness exhibition premiering in NYC honors LGBT+ seniors and advocates for a more accepting future.
About this event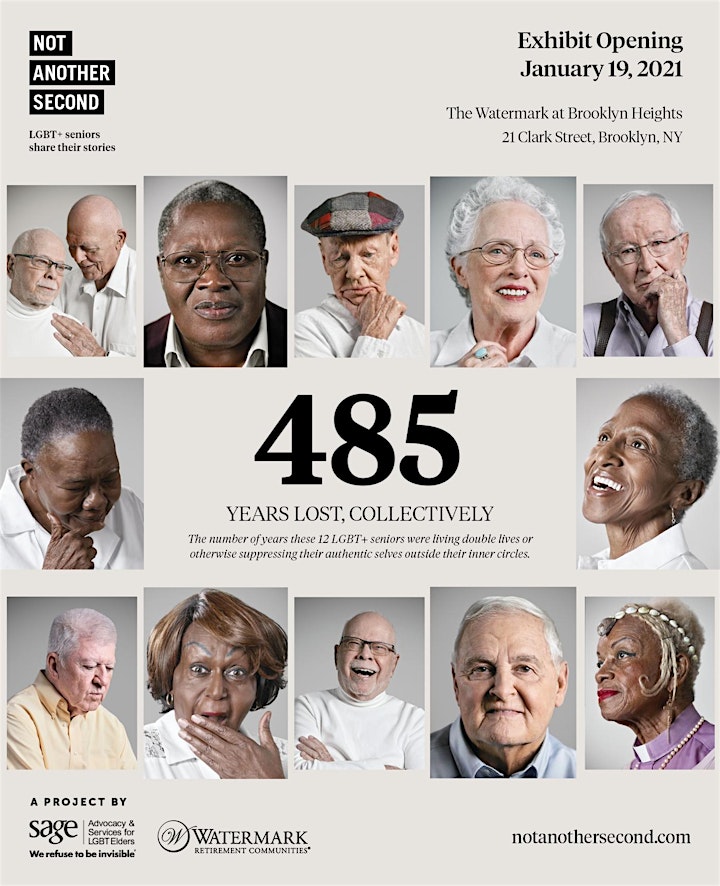 Plan to visit the exhibition?
Entry to the exhibition is by timed ticket reservations only and availability is limited due to capacity constraints.
++++++++++++++++++++++++++++++++++++++++++++++++++++++++++++++++
UPDATE: Due to very popular demand, we have extended the exhibition through December 2021 at The Watermark at Brooklyn Heights. Additional tickets can now be reserved for every Tuesday, Thursday and Saturday through December. Kindly only reserve tickets if you are serious about attending.
++++++++++++++++++++++++++++++++++++++++++++++++++++++++++++++++
Timed tickets are required for Not Another Second: LGBT+ seniors share their stories. Tickets are limited and free of charge.
The Watermark at Brooklyn Heights is practicing safe social distancing guidelines for the in-person exhibit. Space is limited to 10 attendees per 1.5-hour slot. Screening will be done prior to entry and masks must be worn.
***Due to very limited availability, please ONLY reserve a timed ticket if you are serious about attending. Respectfully CANCEL your reservation at least 3 days prior to scheduled time if you are no longer able to attend. This will allow others the opportunity to visit the exhibition. Thank you for your cooperation.***
About Not Another Second
LGBT+ seniors have demonstrated great resilience of humanity over hardship throughout the years, paving the way for a better and more accepting future for generations to come. These brave pioneers stood up and pushed back, refusing to be treated as social outcasts, criminals and sinners or seen as mentally ill. Their living legacy includes hard-won federal rights for LGBT+ members to legally marry, adopt, work and seek housing and health care without discrimination.
Not Another Second tells the stories of 12 LGBT+ seniors and explores the years they lost due to societal constraints. The project acknowledges the sacrifices and contributions of these seniors, celebrates their beauty and bravery and empowers them to share their words of wisdom with younger generations.
The seniors are presented through a series of large-scale portraits interspersed in the exhibit with video stories and a short documentary portraying their experiences as members of the LGBT+ community. Each moving portrait, captured by noted German photographer Karsten Thormaehlen (known for his award-winning series Happy at 100 focusing on centenarians from around the world), is accompanied by the number of years lost, or years when they could not live as their true self beyond their inner circle of trusted friends and family.
A collaboration between the nonprofit SAGE, Watermark Retirement Communities, and Brooklyn's iconic new luxury senior community The Watermark at Brooklyn Heights, the project highlights important statistics and facts to illustrate the challenges which are still faced by approximately 3 million LGBT+ elders in the United States. This exhibition encourages viewers to join their pledge to continue to fight for what is right.